Fueled by both clients and providers, the healthcare market is expected to grow significantly next year. According to the HIMSS report, around 80% of medical organizations are planning to increase their investments in health IT. At the same time, over 50% of surveyed consumers said that they would appreciate the introduction of digital health services.
Another growth factor, of course, is the COVID-19 outbreak. The appearance of new genetic variants creates new challenges for the industry and requires massive transformations.
Luckily, new technologies are here to address the issue. Which of them will be a main trend in 2022? Let's find out.
1. INTERNET OF MEDICAL THINGS (IoMT)
Internet of Medical Things (IoMT) is a connected infrastructure of healthcare equipment and systems aimed at providing effective care to distant communities or patients. IoMT includes remote patient monitoring, which involves tracking both treatment adherence and the location of patients. Most communication is done via wearable mHealth devices, which can send information to caregivers.
Different kinds of trackers have become a regular part of daily life for most of us, but, mostly associated with sports and wellness, they didn't fully unleash their potential. The COVID-19 pandemic has pushed the growth of medical IoT devices.
Their key advantage is presenting real-time data about patients' conditions, which is extremely valuable when doctors can't personally observe a growing number of patients and timely reaction to threatening conditions can be life-saving.
IoMT is also driving a shift in patient awareness. When people get detailed real-time data about how their daily routines affect their health, they can make significant changes to their behavior. The integration of gamification features by some manufacturers can encourage such changes and motivate users to adopt even more healthy habits.
Devices collect a lot of data, such as sleep patterns, diet, average activity level, and more, which helps doctors build more effective lifestyle programs and track progress more precisely. So, IoT software development will be growing drastically in coming years.
Chronic Diseases and Wearables
IoMT has become an effective solution for patients with disorders that require constant monitoring and significant lifestyle changes. These include, for example, diabetes, obesity, and different addictions.
For decades, the treatment of such conditions fell mostly on the patients' shoulders, as doctors had no tools to control the process.
The incorporation of wearable IoMT devices allows doctors to cooperate with their patients on their treatment. Importantly, this helps patients better understand their case and consciously improve their lifestyle.
2. CYBERSECURITY
The more digitized the medical industry becomes, the more crucial is the issue of patient data security.
Modern cybersecurity solutions include the interconnectivity of IoMT devices, threat detection in the network, and the development of advanced AI that can process information without sharing it.
However, with more sensitive data moved to the cloud and attacks becoming more complex, specialists will have to create more effective ways to prevent breaches. Thus, the topic will continue to be critical in the future.
HIPAA-Compliant Telemedicine
Videomedicine has become incredibly popular during the pandemic. Therefore, the Health Insurance Portability and Accountability Act (HIPAA) has become a must.
Most platforms already follow these rules, and even more will have to apply them in the near future if they plan to continue operating.
Future communication platforms will apply methods that are more secure than end-to-end encryption, since it still stores data, which automatically puts it at risk.
To see a good example of a HIPAA-compliant telemedicine app, check out our Salus Telehealth case study. The platform follows all modern security requirements and has already helped thousands of US citizens during the pandemic.
To see a good example of a HIPAA-compliant telemedicine app, check out our The Salus Telemedicine case study. The platform follows all modern security requirements and has already helped thousands of US citizens during the pandemic.
3. REMOTE PATIENT MONITORING (RPM)
COVID-19 has made remote patient monitoring (RPM) mainstream, and the new omicron variant seems poised to spill some more fuel onto its rocket growth. RPM takes many forms, including good ole' telemedicine and online appointments, as well as smart, AI-based monitoring technologies.
RPM saves time and valuable resources, and it's provided an important way to protect doctors and patients during the outbreak. For these reasons, it will probably remain a very promising R&D direction in the near future.
Another strong feature of this approach is that it contributes to health equity by making quality medicine accessible to people from different geographical locations and social statuses.
Mental Healthcare Software
The succession of lockdowns put people with mental disorders in a very vulnerable position. Many of them have lost the ability to communicate not only with their psychologist but also with their communities in general. In addition, isolation made many people look for help for the first time.
RPM and telemedicine helped people cope with their problems and to stay on their doctor's radar.
It has also provided an opportunity for people who were too scared or ashamed to visit a therapist offline to get help in a new way. The ability to communicate without leaving one's home is very comforting, so it's likely that the trend of remote psychotherapy is around to stay.
Our DECIDE Treatment app developed for Innlandet Hospital Trust in Norway, is a great example of mental health software. For several years now, it has been helping people with bipolar disorder. Its effectiveness was appreciated by the Royal Norwegian Ministry of Health and Care Services.
4. VIRTUAL REALITY (VR)
AR/VR technologies in healthcare were widespread long before COVID-19. They were mostly used to train surgeons and other specialists by teaching students and providing virtual tours.
In recent years, the technology was used to scan and analyze lungs for disease. This practice has already saved a lot of lives during the pandemic.
While we're accustomed to thinking of VR as a fun technology, its impact for healthcare is therapeutic rather than entertaining.
VR Improves Pediatric Care Experiences
Let us not forget the key feature of VR: it's fun! And when you're excited, you're not scared anymore.
One of the most creative yet effective ways of applying VR in healthcare is accompanying painful procedures for children. Doctors use the technology to hold kids' attention during unpleasant manipulations.
For severe trauma, VR can create an alternative dressing on a wound to reduce the PTSD.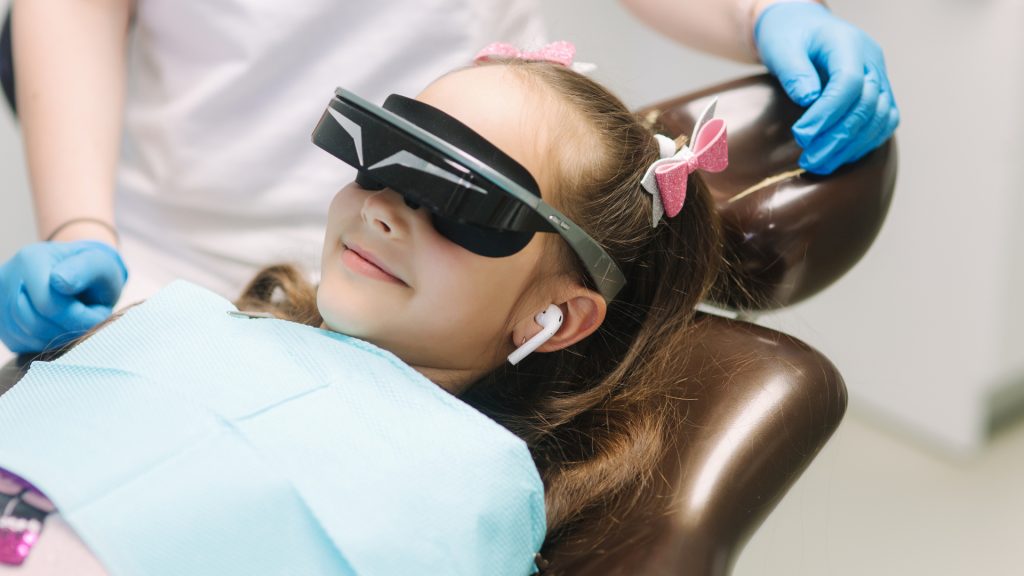 5. BIG DATA & ANALYTICS
Humanity produces tons of data every second. Large heath institutions have collected terabytes of unstructured information that require analysis to help them make decisions. It is practically impossible to rework all of the materials manually. It would take too much time, and the result wouldn't be free from mistakes. That's why the future of healthcare is strongly connected to Big Data.
Another superpower of technology is predictive analytics. In healthcare, it helps to produce data-driven insights of previous patient interactions with medical institution and offers changes and enhancements. It's a win-win solution. Patients get better services, and organizations benefit from staff and supply chain optimization.
According to Frost & Sullivan's forecast, the implementation of AI in healthcare can save the industry over $150 million by 2025. Moreover, the numbers suggest that the AI trend is about to accelerate in upcoming years.
Check out a related article:
Key Types of Healthcare Software with Examples
Predictive Analytics and COVID-19
During the pandemic, technology revealed its full power. We already addressed how AI tracks mutations and predicts future transmissions in one of our previous articles, but that's not all it can do.
It can predict drug and equipment shortages so that professionals can react to prevent them immediately. In addition, it accounts for external data that people can't process, like weather conditions. Thus, predictive analytics is a must-have tool for crisis management.
6. CLOUD COMPUTING
Keeping data in the cloud facilitates its organization and analysis. And, importantly for medical organizations, it makes information accessible from multiple platforms.
This allows medical professionals to engage patients in the process. They can share data with their doctors and get recommendations. They become more aware of their condition and can make better decisions regarding their health.
Cloud computing deals not only with particular patients' data; it can also be used to process global data. Hospitals worldwide can send information to research organizations and benefit from the results of their studies.
Cloud Computing in Nursing
During the pandemic, nurses are on the front lines, caring for people affected by the virus, but as the number of patients has grown drastically, hospitals have found suffered from nursing staff shortages. Since the number of specialists we can engage is limited, tools that streamline workflow are as good as gold.
With cloud computing, nurses can easily update patient data and get recommendations on the most effective treatment strategies. Thus, more patients get help, and healthcare workers experience less fatigue during severe pandemic conditions.
7. ROBOTIC PROCESS AUTOMATION (RPA)
Robots are no longer associated with huge machines only; sometimes, they are nothing more than modest chat assistants. Some chatbots have become so advanced that it's hard to tell whether you are speaking to a program or a living person.
RPA-empowered bots are an important part of healthcare IT. They help patients find the right specialist based on their symptoms. They also save providers time and money.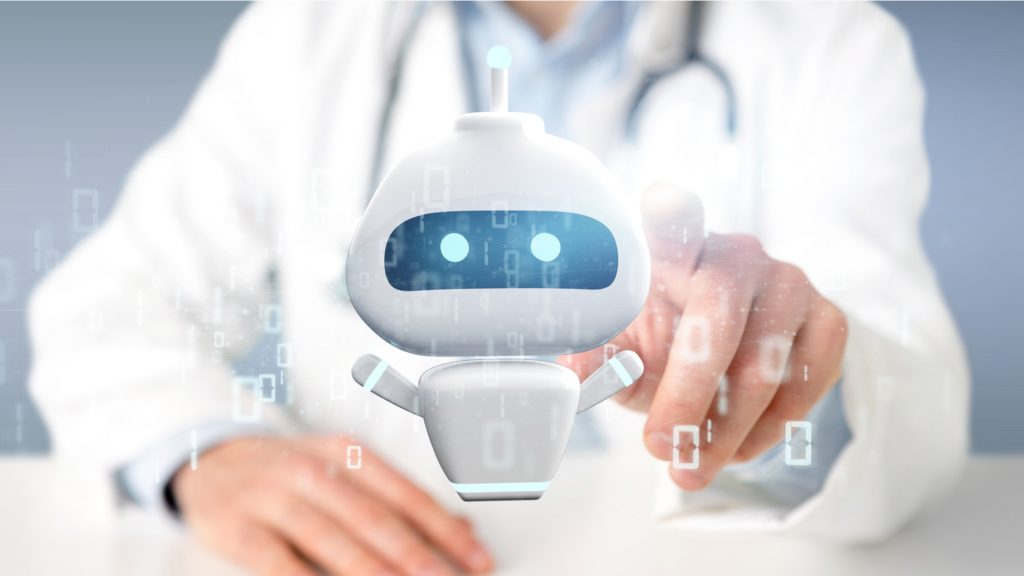 Medical robots are mostly used to mimic human behavior for different kinds of tasks such as data collection, navigation, appointment scheduling, remote assistance, and more. Some of the cases were also described in our article Software in the Time of Plague: How Innovations Help Mitigate COVID-19 and Other Disease Outbreaks.
Online Scheduling Using RPA
Online scheduling is one of the most popular and effective applications of RPA. While helping patients find an available appointment time in their doctor's schedule, it collects relevant patient data that can then be provided to the doctor.
As a result, doctors receive information about appointments as well as data that can help them provide better service.
8. COGNITIVE AUTOMATION (CA)
Cognitive automation is an umbrella term for the application of AI/ML to automate tasks that were traditionally done manually.
In other words, CA is RPA on steroids. It mimics human behavior beyond repetitive tasks. It works as a digital brain for an organization and can be used to gain valuable insights and make recommendations.
Its key goal is to automate operational processes and make an institution work like a Swiss clock. Another purpose is to provide decision-makers with processed real-time data to enhance management.
It's quite an expensive technology, so only industry leaders can afford it, but with further development, it will become cheaper and more widespread.
9. e-PHARMACY
The introduction of e-Pharmacy has made life easier for many of us. First, it has made drugs and medicines available to people living far away from medical institutions and pharmacies.
In addition, for those who take care of sick relatives, the technology allows them to pay more attention to their loved ones and spend less time traveling to pick up prescriptions.
10. VIDEO GAMES
Quite unexpected, right? Video games are mostly associated with bad health, but they can also be applied as a form of treatment. In 2020, the US Food and Drug Administration permitted marketing of the first video game for children with ADHD and similar issues. The game, EndeavorRx, was tailored to improve children attention.
A medication + gamification approach can improve patient's health more effectively. Thus, in the future we expect to see more therapeutic games.
---
2022 promises to be a very fruitful year for MedTech and related fields. The Intersog team is always ready to share its expertise with those planning to launch new eHealth projects.
Our healthcare software development solutions include the following:
Electronic Health Records
Telemedicine
E-Prescribing
Health Monitoring & Wearables
Diagnostic Software
Medical Practice & Hospital Management
And much more! Feel free to contact us for details or IT consultancy. We're here to help!
---