Healthcare may be one of the most powerful verticals of the Israeli startup ecosystem. The excellence of Israel's medicine is recognized all over the world, and people do not mind traveling from other countries to get treatment here. One reason for this is a high level of new-tech penetration in this industry.
According to a report by Startup Nation Central, there are more than 1,200 innovative companies in the healthcare market, the vast majority of which belong to Digital Health and Medical Device providers.
Over the last years, Israel's healthcare industry has received massive investments, almost a quarter of the overall capital raised by local startups. In terms of technologies, investors paid the greatest amount of attention to Artificial Intelligence and the Internet of Things. Below, you can see how the funding was allocated among e-health startups in Israel in 2018.
For this article, we have reviewed the most common types of medical software and selected those that tend to be highest in demand. Below, you'll find a detailed review of their features and benefits.
Medical practice management software
Just as it's unimaginable to run any modern business without CRM software, many clinics are now using special systems to collect and process patients' information.
Medical practice management software (MPMS) is an efficient alternative to "old-school" paper logs. It enables doctors to input and store patients' data and review their past medical history and prescribed treatments, as well as schedule their visits. Additionally, it can show information about patients' insurance and payments.
Key features:
Patient information management allows for quick access to important patient data, such as demographics, case-records, insurance, medications, and reasons for medical visits.
Scheduling helps practitioners organize their working hours.
Reporting enables the hospital staff to obtain feedback on the quality of their services, as well as to analyze many other domains of their practice and overall performance.
Key benefits:
The growth of the market for this kind of software is obvious, as it helps to lessen "human error" and make clinics function more smoothly. It is very important, especially when the healthcare industry is becoming more commercialized and patients are choosing doctors not only based on the quality of treatment but also the entire experience.
Hospital management software

Hospital management software is an expanded version of the medical practice management software that goes beyond doctor-patient interactions. It handles all the systems necessary to keep a hospital up and running, such as laboratories, reception, maintenance, and so on.
The general purpose of HMS is to improve the efficiency of medical services by controlling all of the processes that may affect a patient's journey.
Key Features:
Patient registration helps collect important patient data.
An internal service desk empowers hospital staff to make requests to other hospital departments (e.g., to order test results from the lab or ask the service team to fix broken equipment).
Billing manages financial transactions and generates bills for various hospital services.
Key Benefits:
By delegating these functions to the data-management system, hospitals can focus on the treatments they provide and have more staff focused on providing health care rather than on administration. Consequently, the patients are happies about the care they receive, and their records are preserved in a better way. It makes the doctors' job easier. Taking into account their workload and the level of fatigue that doctors experience, the automatization of processes is crucial for them.
Case study
An example of such software is the service desk application developed by Intesog for the University of Chicago Medicine (UCMC). It helped UCMC to manage their service team more effectively and made a positive impact on the hospital's operation.
Telemedicine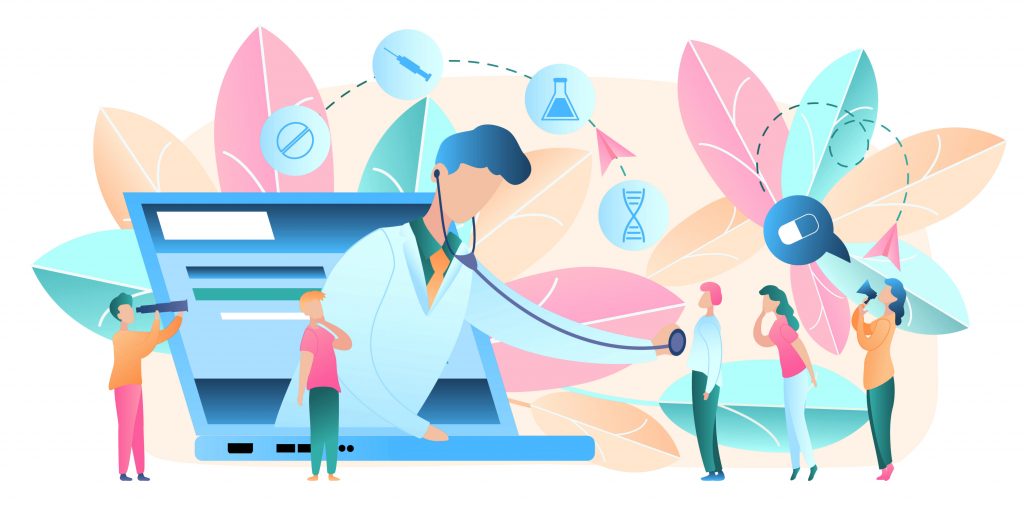 While some types of software are aimed at making work with patients within clinics easier, others try to reduce the number of patients by developing solutions to provide remote medical services.
Telemedicine applications enable consultations and first aid help to be provided without hours in queues and waiting rooms. Patients can get diagnosed or checked via chat, calls, or video.
Key Features:
Videochat grants full-featured communication between doctor and patient, and it can be accompanied with chat and file attachment functions.
Scheduling helps doctors set up online consultation hours and set their rates-per-hour.
An online booking system enables patients to make appointments or to consult with doctors available at the moment, as well as rate and leave feedback on provided services.
A search feature helps patients find specialists based on cost, specialization, area, and more.
Key Benefits:
This category of software exists in order to solve issues remotely, if possible. It helps reduce the load on hospitals and clinics and enables medical professionals to be more responsive to patients' inquiries. Patients, at the same time, do not need to wait in long queues and arrange long visits when all they really need is a quick conversation.
For doctors, it's also a good way to earn extra money and broaden their reach beyond their immediate area.
Case study:
The Salus Telemedicine App developed by Intersog helps connect patients and medical experts through telephone, mobile/web applications, video chats, and more, making consultations easier and more accessible.
When the project was launched, it was the world's first mobile free-market doctor network. To learn more about its features, visit our portfolio page.
E-Prescribing Software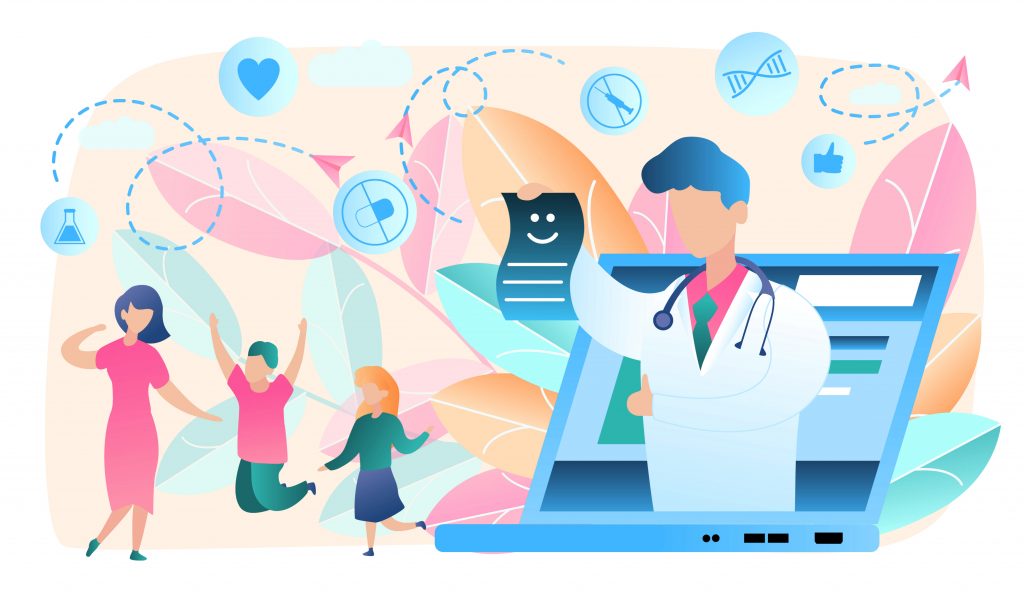 Another reason patients come to the clinic is to get a prescription for medicine, and this is another service that can now be conducted remotely due to e-health. E-Prescribing applications make it possible to send the patients' prescriptions directly to the pharmacy. Additionally, the patient's history of treatment is also available in the pharmacy database.
Such apps can even be set up to remind people when it's time to get their medicine and to track any changes in their condition.
Key Features:
Prescription management enables doctors to send prescriptions directly to pharmacies.
Medication history shows previously prescribed treatment and its effect on a patient's health.
Feedback allows patients to leave questions and reviews about their treatment and learn more about possible side effects and alternative methods.
Key Benefits:
These solutions help to avoid prescription errors and cases in which patients remain without medicine because they cannot get the prescription from their doctor's office or because the prescription was lost. Additionally, it can help to detect which medicine works best for each individual.
Case study:
Shared decision-making becomes more popular with e-prescribing. It allows doctors and patients to communicate to select the optimal option based on each patient's goals and lifestyle. Such a mechanism helps raise the efficiency of treatment and client satisfaction.
Decide Treatment, an evidence-based health optimization system for patients with bipolar disorder, was among the pioneers in this area. Learn the whole story in our portfolio.
Health monitoring software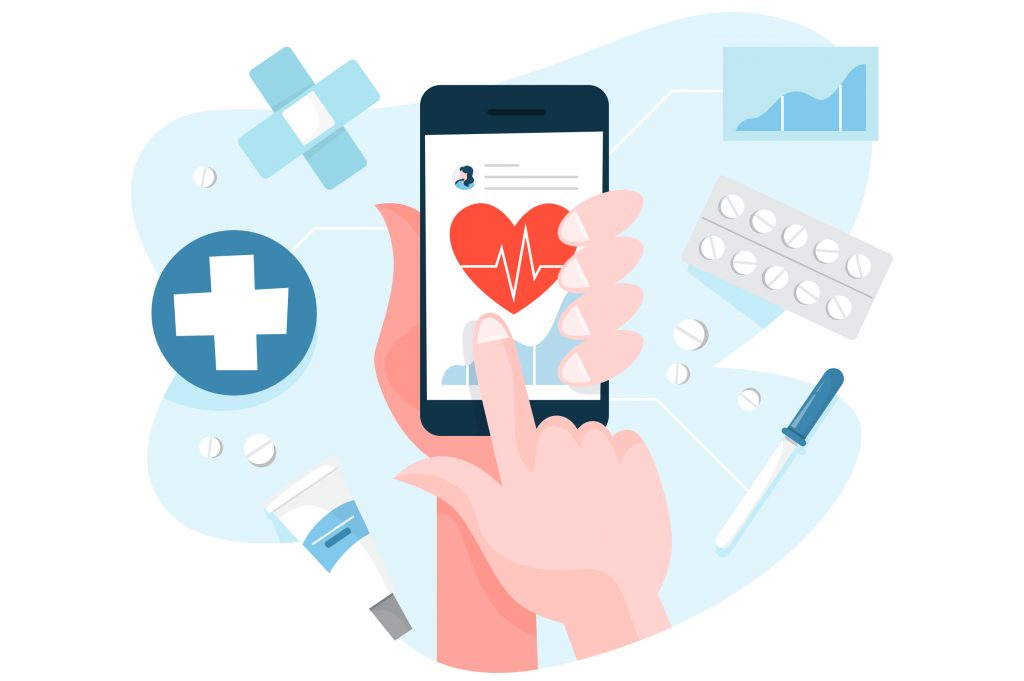 This type of software is tailored to track all changes in a user's wellbeing, as well as collect and process historical health data. The records can be done either manually or with wearable monitoring equipment.
Key Features:
Tracking records user's health indicators and enables this data to be shared with doctors or family members.
Health indicators analysis gives an overall health summary, highlights progress, and detects the effects of changes in a patient's lifestyle on his wellbeing.
An automated notification feature can be used when monitoring vital characteristics such as heartbeat. It can notify a patient and/or a doctor that there are hazards to a patient's life.
Key Benefits:
Such software helps to minimize patients' health risks caused by different lifestyle factors and enables patients and doctors to react more quickly when a patient is in danger. It also helps patients stay more informed about their conditions and be more engaged in the treatment process.
Case study:
Qardio App is an award-winning application connected with the company's proprietary heart health, weight, and blood pressure monitoring devices. Shortly after the release, it was featured in the App Store as one of the Best Health Apps. Learn how it was developed in our portfolio.
Diagnostics software
With the rise of AI and machine learning, one of the most complicated fields of medicine, diagnostics, has also been influenced by e-health technologies. Machine learning-based diagnosis software is much appreciated in oncology, as it helps to identify cancer or other genetic diseases in early stages or in cases where they are hard to determine.
Key Features:
Deep learning is used to analyze large arrays of patient data and detect issues that may be missed by a human doctor.
Machine vision analyzes visual data (e.g., MRT scans) to detect illnesses in early stages.
Key Benefits:
Though machine learning-based software is still in its early stage of adoption, it has strong potential to become a must-have tool for early-stage disease diagnostics due to its ability to identify crucial patterns in large data arrays.
In general, it is clear that the medicine of the future will not be possible without digital health technologies. The old paperwork bureaucracy is finally coming to an end and being replaced by a more efficient way to operate. At Intersog, we are happy to be part of this evolution of vital services.
Feel free to contact us to learn more about our software development services for healthcare solutions providers.
---