On our blog, we have already discussed the impact of the COVID-19 outbreak on business, security infrastructure, and healthcare, but there's another industry that has been significantly affected by the global lockdown and that has, until now, evaded our review. This industry is education.
Just like their parents, who were forced to work from home, millions of students had to adopt distant learning (and, yeah, sometimes it was an explosive mixture). Such urgent digitalization of traditional education could not happen without challenges, massive transformations, and newly arising opportunities.
And today's article is all about it!
Impact of COVID-19 on Education
The outbreak has changed the way our educational systems have operated for centuries. Almost 120 countries stopped face-to-face learning, which affected almost a billion learners worldwide.
The United Nations Educational, Scientific and Cultural Organisation (UNESCO) created a set of interactive maps to show the true scale of the pandemic's effect on the global educational system. It uses a 0-3 scale to visualize the impact of the outbreak on learners in terms of number of affected learners, affected learners as percentage of the total, and number of nationwide school closures. The data is updated every week, so you can always check the actual situation and compare it with historical data.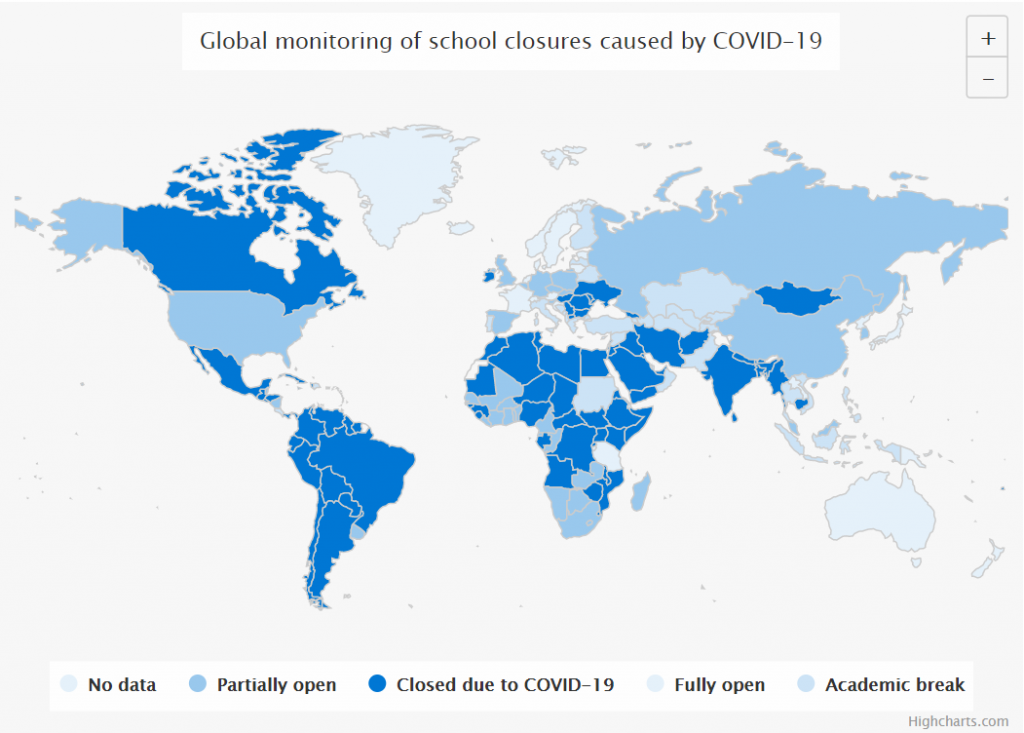 Another dashboard from the World Bank displays the status of the schools and the number of affected students for every country.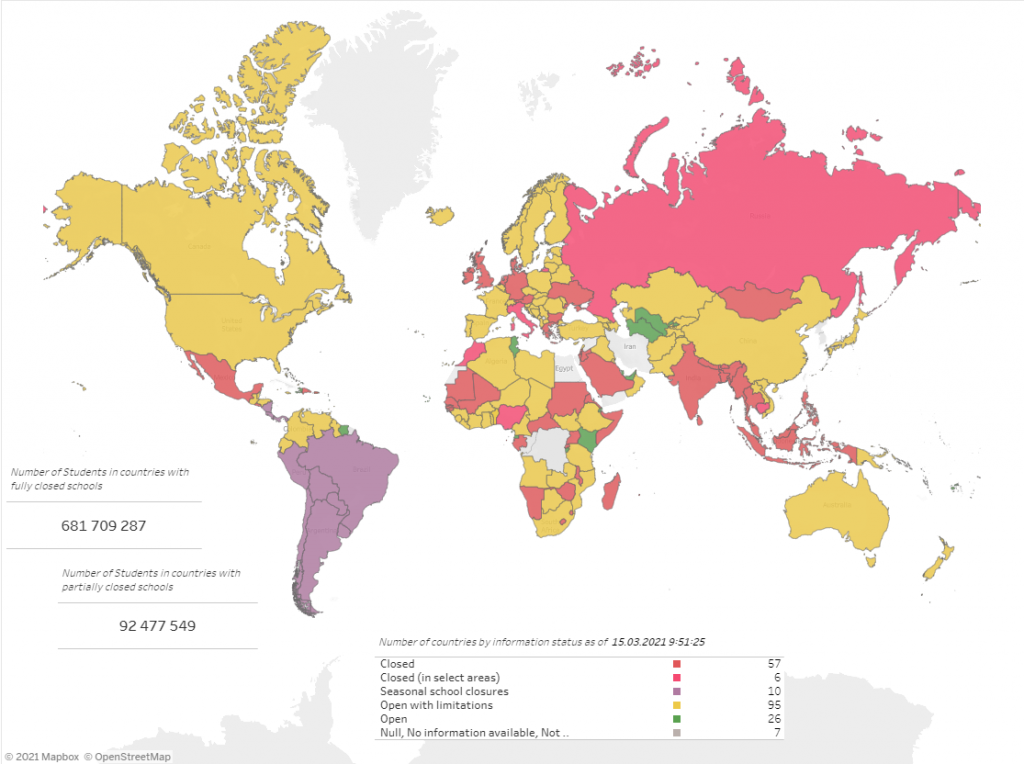 Today's system works through the e-learning, and even though many countries are planning to open up their schools and universities this autumn, e-learning is here to stay for a while—probably, for forever.
Transition to Digital Education
According to UNESCO, most education systems in 61 surveyed countries implemented measures related to distance learning. Exceptions were Sweden, which did not apply severe quarantine measures, and a few schools in Belgium and Norway, which stayed partially open for children whose parents work in essential sectors.
Governments all over the world had to leverage and scale technologies that enable remote learning. This article by the World Bank shows the measures taken by different countries.
Before the crisis, only 20% of countries had online learning programs (but only in certain schools), less than 10% of countries had more advanced capabilities, and none of them had a holistic e-learning ecosystem. These numbers show how unprepared the world's educational system was for a massive lockdown and how challenging the transition was.
To appropriately switch to e-learning, three requirements must be fulfilled: access to the internet, the right technology, and the skills to use this technology. And this is where problems begin.
Digital infrastructure is not as advanced in every country as it is in Europe or US:
826 million students worldwide have no PC in the household.
706 million don't have internet access.
56 million students have no 3G, 4G, or 5G coverage.
Besides having access to the internet, it is also important to have a quiet place to study and a personal device to work on. For families with many children, this has been a true challenge. Based on the PISA survey of 15-year-olds, there are large socio-economic differences in this area. In the EU, over 95% of students reported that they have a computer, and 91% answered that they have a place to concentrate on their studies. However, in Indonesia, only 34% of children have a PC, and 70% have a cozy learning place.
You can review the numbers for different regions in the tables below:
Other parts of the problem included schools not being equipped for online learning and teachers lacking the expertise to work with available technologies. They had to adjust their programs and use new methods and new media. Not all of them were prepared for this. Only 65% of students in OECD countries confirmed that their teachers have the necessary skills and appliances, and almost 50% of the UNESCO surveyed education systems developed special training programs for teachers to prepare them for e-learning.
Check out a related article:
The World After Corona: Covid-19 Effects on Global Economy and IT Sector
Opportunities for e-Learning Startups
Since remote learning has been at its highest, it has created a huge demand for user-friendly and reliable high-tech services. Thus, the eLearning industry became the biggest beneficiary of a global quarantine. This surge for opportunities will continue far beyond the lockdowns. For now, remote learning has become a preferred method for many students worldwide.
While more and more people shift toward edTech, the increased demand will fuel the growth of Learning Management Systems, content creation businesses, technology management, support, and, of course, e-learning software development services.
e-Learning companies now top investors' lists. The money inflow reached a peak in 2020-21. This resulted in many startups entering the market fueled by increased funding. Moreover, many established companies became unicorns.
The Downside to Growth
Not everything in the garden is rosy, though. While the academic sector of edTech was flying to the moon, the corporate sector has met with a few struggles. Since many businesses could not continue operating the same way they did before the crisis, they were forced to cut expenses. Training budgets became thinner. As a result, many e-learning businesses reported a decline in corporate clients.
Another common issue was that many platforms were unprepared to handle such an unprecedented increase in demand. Their systems could not process the incoming traffic, so they needed to scale as soon as possible.
You can find the case study on this issue in our portfolio. During the quarantine, SAM Learning became one of the largest e-learning service providers in the UK. The Intersog team had to double its efforts to help our client adapt their system to a high load in the shortest time possible. Due to our specialists' dedication and clear communication with the client, we succeeded in this challenge.
Overall Impact
The overall impact on the industry was largely positive. New opportunities became available for startups all around the world fueled by growing user interest and increased funding.
If you are planning to launch your own service in 2021, it's still a good time even though most schools are open again. The interest in online education will only grow.
If you need a reliable service provider or a consultant for e-learning app development, feel free to contact us. We are here to help.