Blockchain fatigue is real, with most people associating it solely with cryptocurrency and bad actors. However, it's crucial to recognize that blockchain's true potential extends beyond this narrow view. Businesses are increasingly integrating blockchain into their operations, providing unparalleled data security and authentication. This technology is already in use, and the pace of adoption is accelerating.
Similar to the internet's evolution, blockchain is poised to become a significant revenue generator for businesses. Enterprises and governments are realizing that blockchain complements existing infrastructure, enhancing efficiency.
But, questions persist among business leaders: How will blockchain impact our data infrastructure and security? What are the practical use cases? Can our team implement it, and what about the budget?
In our report, we discover that nearly 90% of businesses in the US, UK, and China are adopting blockchain. However, challenges like knowledge gaps, interoperability issues, and company buy-in persist.
In a survey of 603 global business decision-makers in the UK, China, and the US made by Casper Labs the following statistics were found:
A significant percentage (90%) of businesses in these regions are beginning to incorporate blockchain into their operations.
Despite growing adoption, businesses face challenges, including knowledge gaps and issues like lack of interoperability and company buy-in.
In terms of technology budgets, expectations are optimistic for 2023, with an anticipated increase, even amid a projected economic downturn.
Notably, many individuals still confuse blockchain with cryptocurrency, even though blockchain is a broader technology that encompasses various applications.
A substantial proportion of businesses, particularly in China (55%), express a high likelihood of investing in blockchain solutions within the next 12 months. This intention is also observed in the US (48%) and the UK (42%).
We are at a pivotal moment for blockchain in enterprise technology. The report serves as a valuable resource, regardless of where you stand in your blockchain journey. Blockchain is ready for the enterprise, and enterprises are ready for it. Let's have a deeper look!
The State of Enterprise Blockchain Adoption in 2023
Modern organizations have established robust technology infrastructures, encompassing a diverse array of tools, from SaaS solutions to developer and database management tools. However, the complexity of these technology stacks offers room for enhancement and reevaluation of their value delivery.
While IT leaders have been exploring various applications of blockchain, they've only recently begun transitioning from test to production environments. This transition is just the beginning of the transformation that blockchain can bring to businesses.
How Businesses Utilize Blockchain
Security and copy protection are the primary benefits of blockchain (42% each).
Beyond these, companies use blockchain for various purposes, including operational workflows (40%), supply chain efficiency (34%), software development (30%), contract management (21%), and hiring (11%).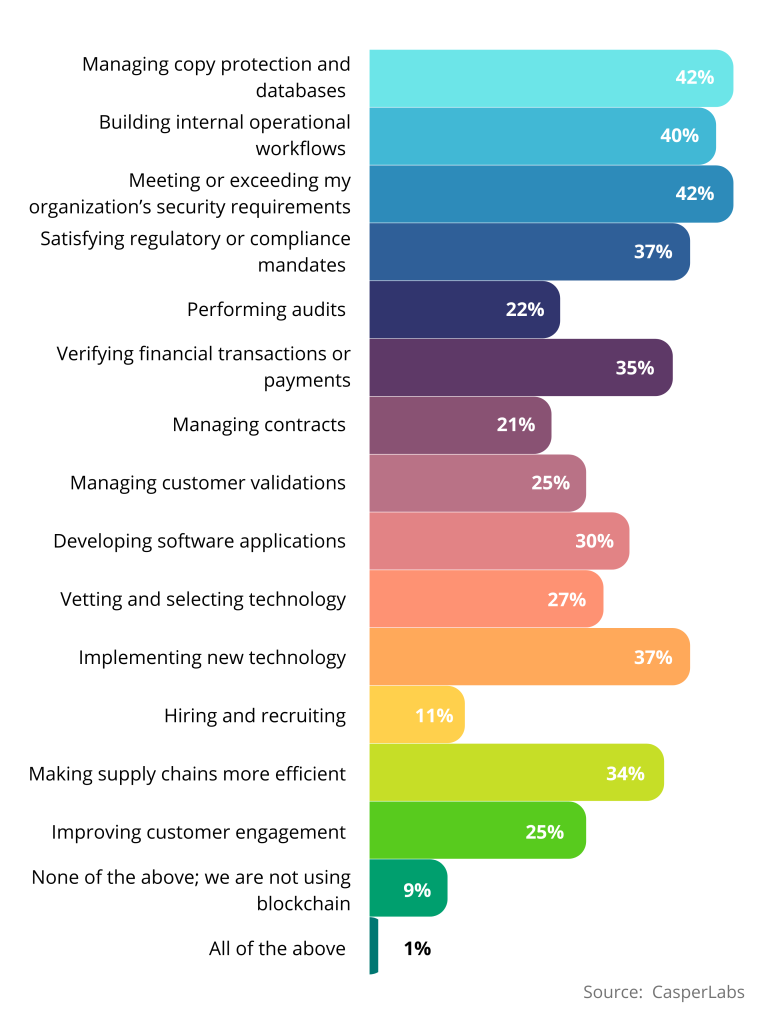 Balancing Off-the-Shelf and In-House Tools
Globally, most companies prefer to purchase solutions or hire blockchain development service companies rather than build them in-house due to IT talent shortages.
The most common approach is to use off-the-shelf tools with some technology built in-house (40%).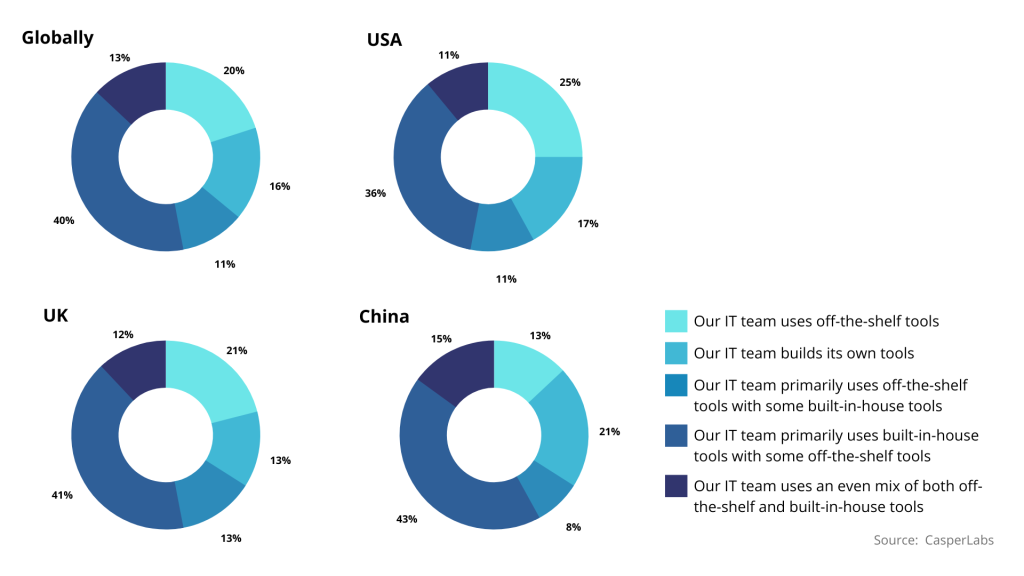 The Future of Blockchain Adoption:
Nearly 90% of global respondents report deploying blockchain technology in some capacity.
Hybrid solutions are the most common globally (38%), with private blockchains following. In China, public blockchains are slightly favored over private ones.
An overwhelming majority of business leaders, approximately 87%, indicate a high likelihood of investing in blockchain solutions over the next year, despite ongoing economic uncertainties.
Notably, leaders in China exhibit the most enthusiasm, with 55% very likely to make blockchain investments, while the UK (84%) and the US (81%) also express strong intentions to invest in blockchain solutions in 2023.
The State of Crypto & Blockchain Fundraising
The prolonged bear market in the cryptocurrency industry is unmistakably reflected in the fundraising landscape. Q3 of 2023 proved to be no exception to the multi-quarter downtrend witnessed since the onset of 2022. During Q3, new lows were reached in both overall funding amounts and deal counts, marking levels not seen since Q4 of 2020. The combined figures for the quarter tallied just under $2.1 billion, spread across 297 total deals. This represents a decline of 36% in both funding amounts and deal counts compared to the previous quarter.
Fundraising by Development Stage
Examining the fundraising data according to development stages reveals that the majority of deals are concentrated in early-stage rounds. Seed funding emerged as the leading category, raising $488 million across 98 rounds. The trend in deal counts indicates a notable shift from later-stage projects toward early-stage projects over the past three years.
Early-stage deals, encompassing Pre-Seed, Seed, and Series A rounds, have witnessed a transition from a 37% share of deals in Q4 of 2020 to a 48% share in Q3 of 2023. In contrast, later-stage deals (Series B or beyond) have diminished from an 8% share in Q4 of 2020 to a mere 1.4% share in Q3 of 2023. This shift underscores strategic positioning during the bear market, as investors seek to back projects with the potential for substantial gains when market sentiment eventually turns positive.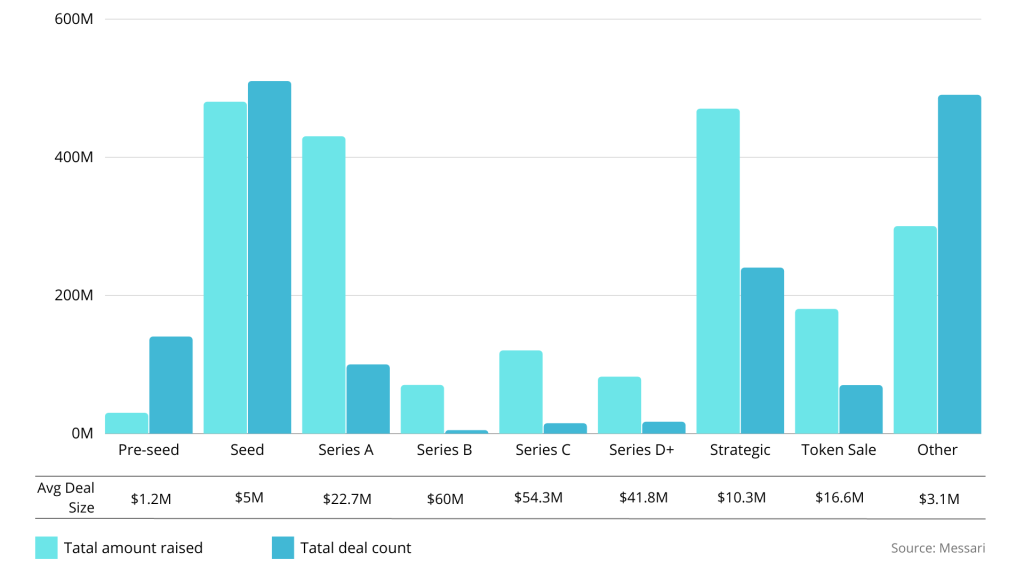 Sector-Based Fundraising Trends
The distribution of sector funding in Q3 aligned with patterns observed over the preceding 12 months. The sectors of chain infrastructure, decentralized finance (DeFi), and gaming have consistently attracted substantial funding during this period. Another sector, "services," encompassing complementary business functions like marketing, incubation, security, and legal services, sustained an average of over $100 million in funding during the same time frame. While other sectors are undoubtedly vital for the crypto industry's growth, these four sectors continue to dominate investor interest.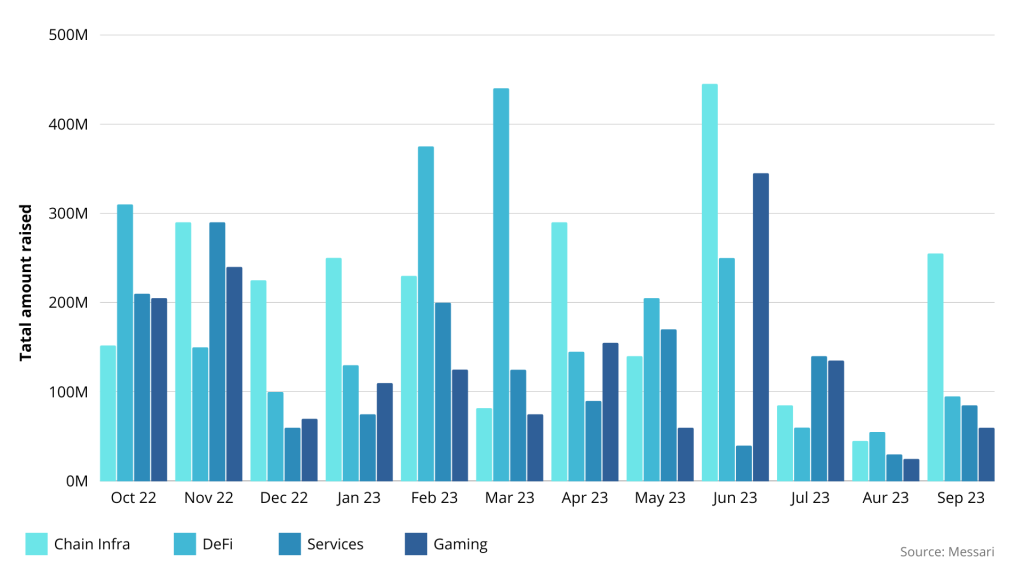 Investor Landscape
Q3 witnessed considerable activity from crypto's most active investors, with a total of 144 investments. However, this group accounted for just 7% of all investor deals, highlighting that crypto fundraising remains predominantly influenced by a diverse range of investors. Outlier Ventures and Binance Labs were the most active investors, each participating in 23 and 22 deals, respectively. They were followed by Robot Ventures.
The majority of active investors in Q3 (54%) were based in the United States, consistent with the quarterly average over the last four years. Although some project founders have relocated from the United States to more regulatory-friendly jurisdictions, the U.S. remains home to the majority of accredited crypto investors.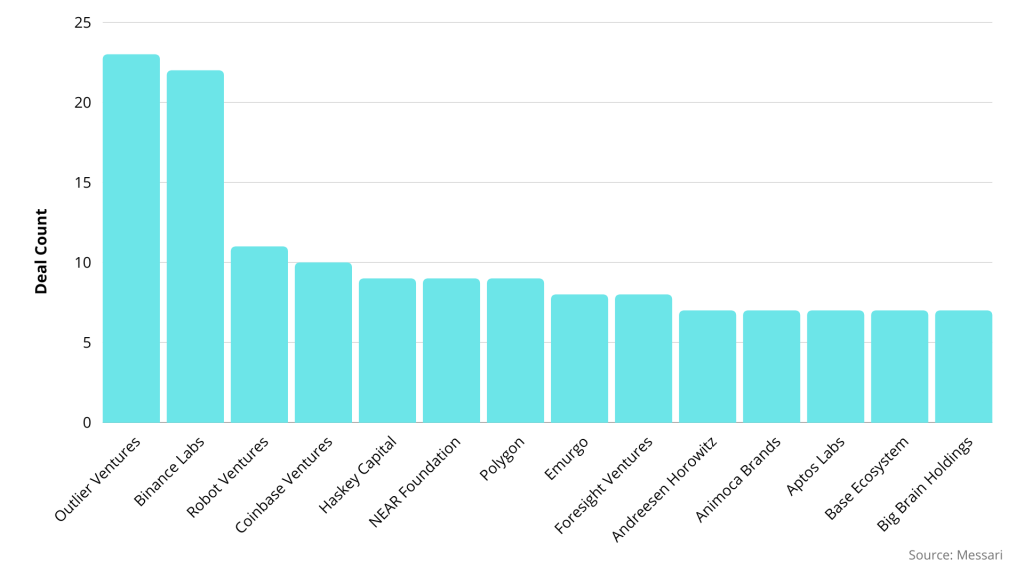 The State of Blockchain Perception Around the World
The survey by Consensys indicates a positive shift in attitudes toward a more user-centric internet, offering control over shared data and fairer profits for creators. However, there's a notable gap between cryptocurrency awareness and practical web3 utilization. This gap presents an opportunity for mainstream web3 applications to bridge the current limitations in online privacy, control, and ownership.
Data Privacy Concerns
Globally, 83% of people consider data privacy to be significant. Interestingly, countries with robust data protection laws, such as Germany (58%), the UK (57%), and France (63%), were less likely to strongly emphasize the importance of data privacy. While most respondents deem data privacy important, only 45% express trust in how current Internet services (e.g., social media, emails, games) handle their data and personal information.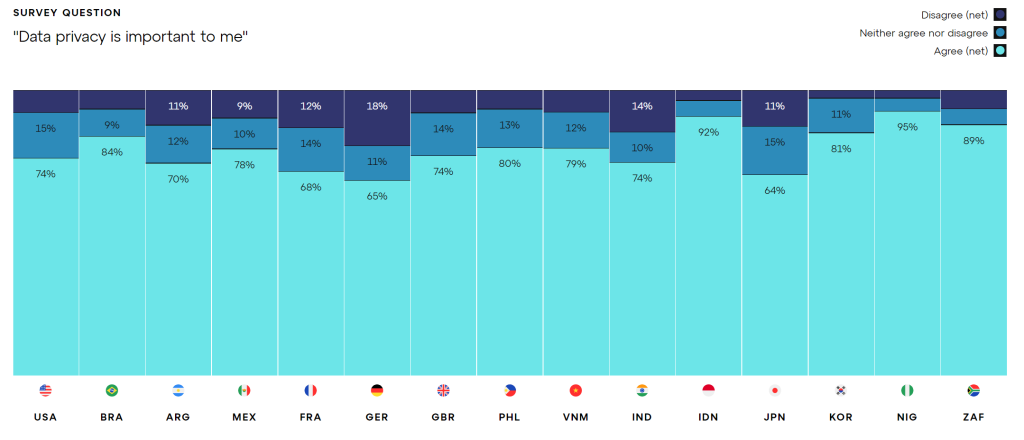 Crypto Awareness
Cryptocurrencies are highly recognized, with 92% of respondents globally having heard about them. Half of them not only heard about cryptocurrencies but also understand what they are. Nigeria, South Korea, South Africa, Brazil, and India have higher proportions of respondents who claim to understand cryptocurrencies, while Japan and Indonesia lag behind with only one in three expressing comprehension.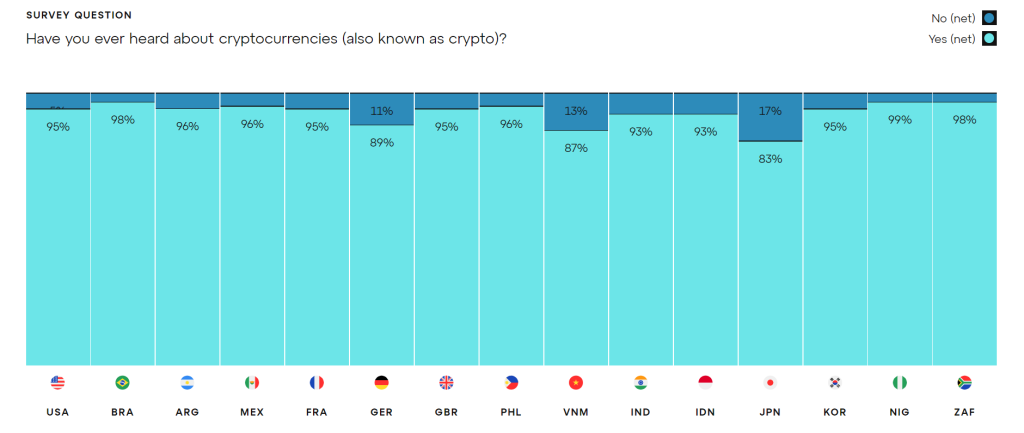 Concepts Associated with Crypto
Globally, respondents associate cryptocurrency with being the "Future of Money" and an "Alternative to the Traditional Financial Ecosystem." Only 8% of respondents worldwide associate it with "crime and money laundering." However, European countries tend to lean more towards negative associations, such as speculation and scams/phishing.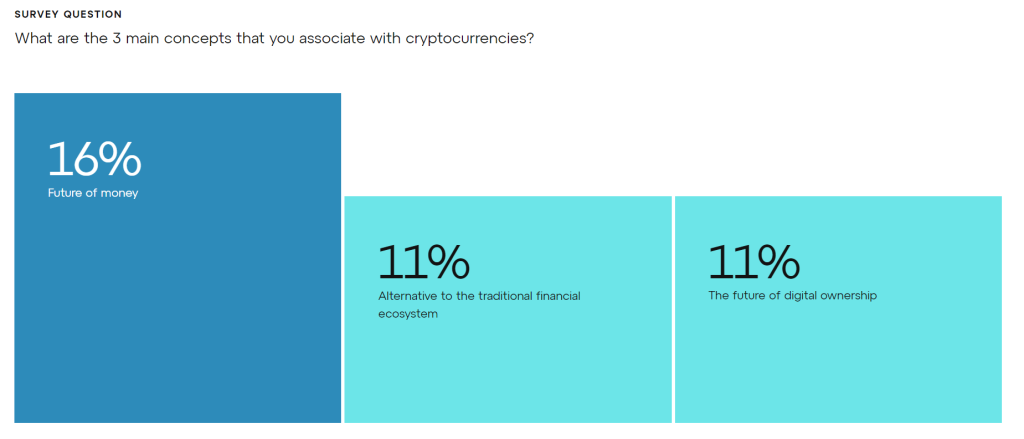 Regional Differences
Significant regional variations in respondents' perspectives and behaviors exist. European nations, as well as countries like Japan and South Korea, tend to approach cryptocurrencies with skepticism, associating them with negative notions like scams, money laundering, and speculation. On the flip side, numerous countries in Southeast Asia, South America, and Africa generally exhibit more positive attitudes toward cryptocurrencies and web3. In these regions, associations with concepts such as the future of money, digital ownership, or alternatives to traditional financial systems are prevalent. Particularly noteworthy are countries like Argentina and Nigeria, where volatile local currencies underscore the vital role of cryptocurrencies in accessing global capital and hedging against inflation.
---
The state of blockchain in 2023 reflects a significant shift in the perception of this technology. While blockchain was once primarily associated with cryptocurrency and negative connotations, it is now recognized as a valuable tool for both businesses and users worldwide.
Blockchain's future is bright, and if you're willing to become a part of it feel free to contact us and learn more about our blockchain development services.