This article is an extract from our recent white paper "IT Business in Times of Global Crisis: How to Hold Positions and Grow Sales". You can download the full version here.
---
A third of the world's population has spent the Q1 2020 in some form of a coronavirus lockdown, with their movement and actions controlled by governments. Due to this, many corporations were forced to suspend their operations, resulting in huge financial losses and massive lay-offs.
At the same time, the new way of living has formed new priorities and consumer patterns. The shift in demand has skyrocketed firms that are well adapted to the new reality.
Within a few months, the pandemic has transformed the business landscape completely, and the consequences will stay with us for many months ahead. Let's review the impact of COVID-19 on the world economy and try to find out how to act effectively in the new circumstances.
Global economy to shrink in 2020
As the world becomes more globalized, businesses become interconnected. Thus, it's not surprising that the first economic difficulties arose in January with the lockdown in Hubei, China. Factories operating in the region supplied businesses worldwide, so the enforcement of quarantine restrictions meant that many of them did not get the resources they needed to continue their operations. The situation has worsened as more and more countries have fallen to the disease.
The International Monetary Fund has forecasted that global economic growth will fall to -3% this year. According to their projections, only a few economies, such as China and India, have the capacity to grow this year.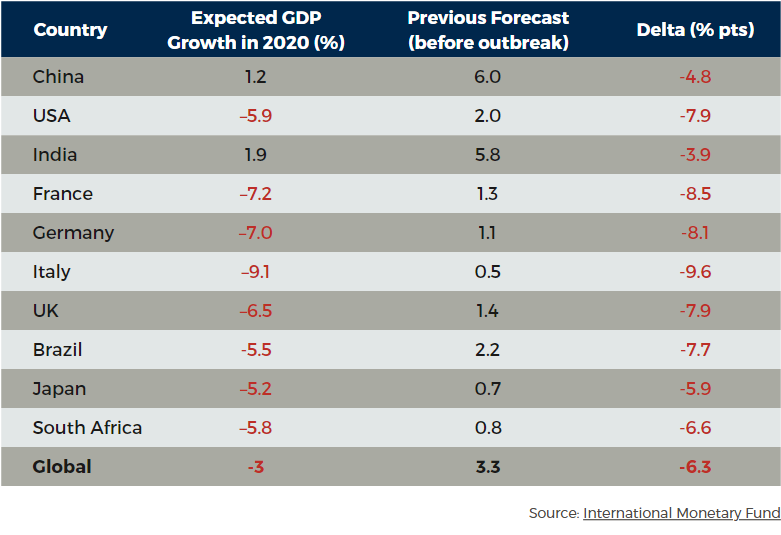 Advanced economies are expected to face a larger decrease in GDP than emerging and developing economies, though that is not a subject for rejoicing. Being popular outsourcing destinations, these regions will see a lesser demand on their workforce. Additionally, many local projects are funded from investors in Europe and the USA. So, with the situation worsening in these countries, they are more likely to lose the capacity to continue their operations.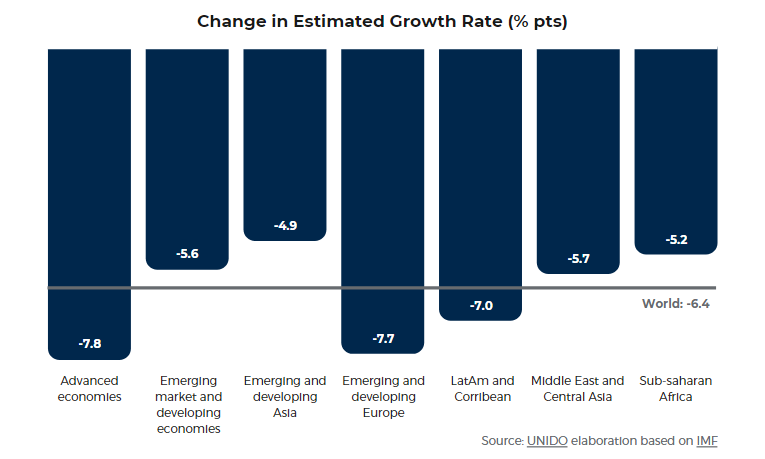 Winners and Losers
Businesses' resilience during an economic crisis varies drastically by sector and often within sectors. Moody's Investor Services issued a global heat map showing diverse exposure among corporate sectors based on two scenarios:
Baseline scenario assumes a gradual normalization of economic activity in the second half of 2020. It takes into account that some hard-hit economies will still remain closed, while others will soften quarantine measures to some extent. Governments worldwide will issue special supporting programs, such as monetary loosening, to minimize the negative effect of the outbreak on the economy.
Downside scenario assumes a notable rise in the number of diseased along with fear that the virus can not be restrained. This will lead to more restrictions, lockdowns, and quarantines. In this case, monetary and fiscal stimulus won't be enough to fuel economic stability.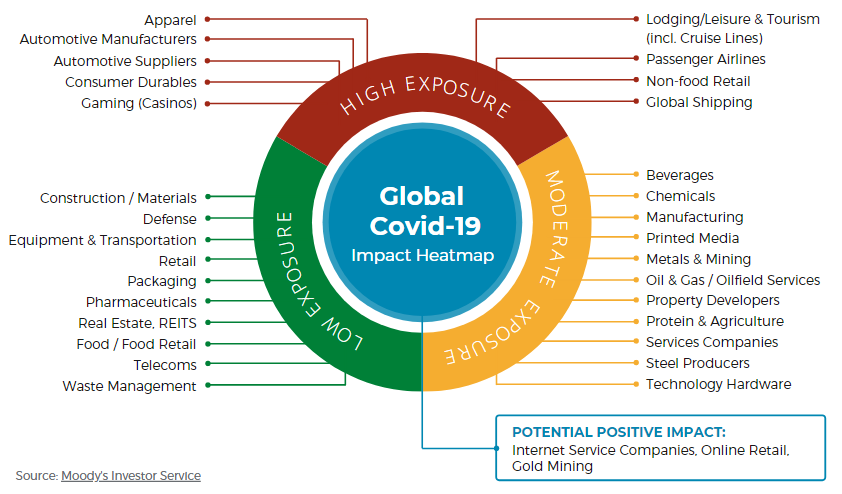 The

"high exposure"

category unites sectors that have already suffered significantly or are highly vulnerable even under the baseline scenario.
The

"moderate exposure"

category covers fields that are resilient under the baseline scenario but vulnerable to the downside one.
The

"low exposure"

sectors will have to adapt to the shift in user demand but won't be affected to a large extent.
What about the IT sector?
According to Bloomberg research, technology is the second least hit sector after healthcare. As we all were requested to stay at home and work remotely, the stock prices of tech companies like Zoom, Netflix, and Amazon, providing us with video conferencing, streaming, and online shopping services, reached historical peaks.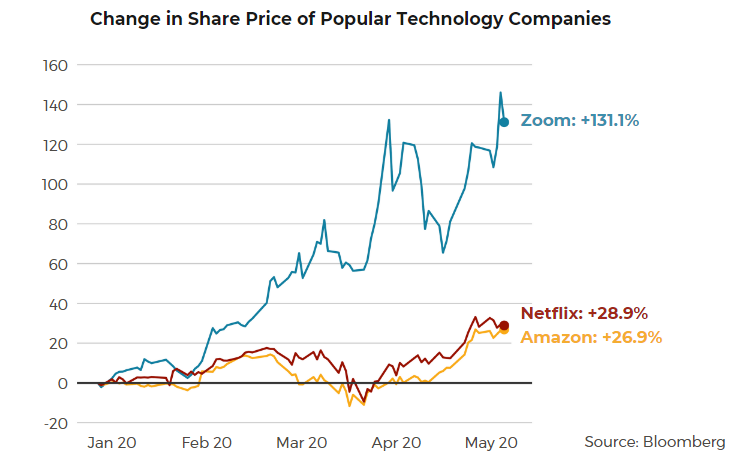 Check out a related article:
Software in the Time of Plague: How Innovations Help Mitigate COVID-19 and Other Disease Outbreaks
Not everything in the garden is rosy
Not all tech companies, though, can boast such skyrocketing growth. As the US unemployment rates were also reaching historical maximums, many tech specialists lost their jobs: within three weeks in March, Silicon Valley lost over 6000 specialists, and the number of open positions in the 30 largest tech companies decreased by 19%. Here are only a few of the most prominent cases:
At the end of April, Uber announced plans to lay off about 20% of its employees.

Airbnb froze hiring and suspended marketing due to coronavirus.

GM temporarily cut pay by 20% for 69,000 salaried workers amid the coronavirus pandemic.
Startups are in trouble
Startups have proven to be the most vulnerable to recent events, as many of them demand regular capital injections. Investors became more cautious in spending their money, so many early-stage businesses have left with no resources to sustain their operations.
According to a survey conducted by Startup Genome, a lot of startups will cease to exist over the coming months as they run out of money.
Regardless of the industry, about 2/3 of them don't have the reserves to survive past September, 21% can't make it past March 2021, and only 10% are resilient enough to operate beyond 2021.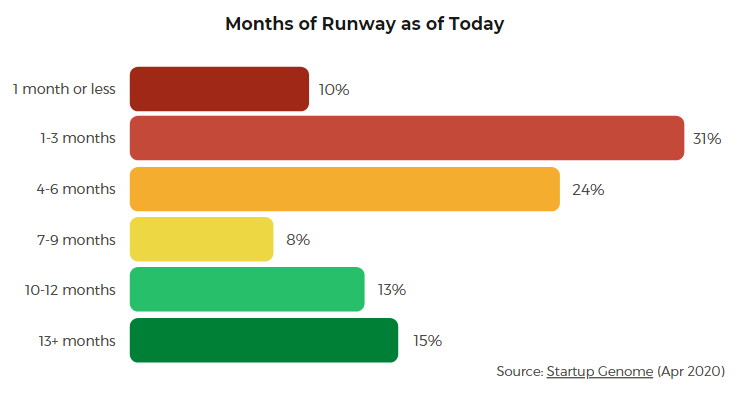 Half of the surveyed startups were trying to raise funding before the lockdown. As most of these funding drives were canceled or frozen, startups' revenues also began to sink. More than 26% of startups have lost 60 - 100% of their revenue during the pandemic.
Another 26% of startups, on the other hand, have grown their revenues, as they belonged to a sector that was highly demanded by consumers (telemedicine, education, online entertainment, communication, etc.). Also, many new businesses were established to face COVID-19-related challenges.
All this shows both high vulnerability and high flexibility of the startup ecosystem to global changes.
Too diversified to fail
The conclusion we can draw from the information above is that it would be a little bit wrong to analyze IT as a single sector, as almost all modern industries use technologies in their operations.
The picture we witness with the IT sector is comparable to the global situation: some sectors were hard-hit, while others won the day. So, let's briefly review how IT sub sectors are doing.
The hardware sub-sector is projected to see the largest decline in 2020. It is highly dependent on supply chains, and its production is often distributed via offline retailers. Due to this, many corporations, such as Microsoft, Sony, and Apple, have postponed the release of new gadget models.
IT services and business services will see a moderate decline. Businesses worldwide will still invest in keeping their critical projects running but will try to cut costs on non-core ones.
The impact on each business operating in the software field will be different based on what economic sector it serves and how useful it is in today's circumstances.
Below you can find a table that vividly illustrates the impact of the lockdown on major IT sectors: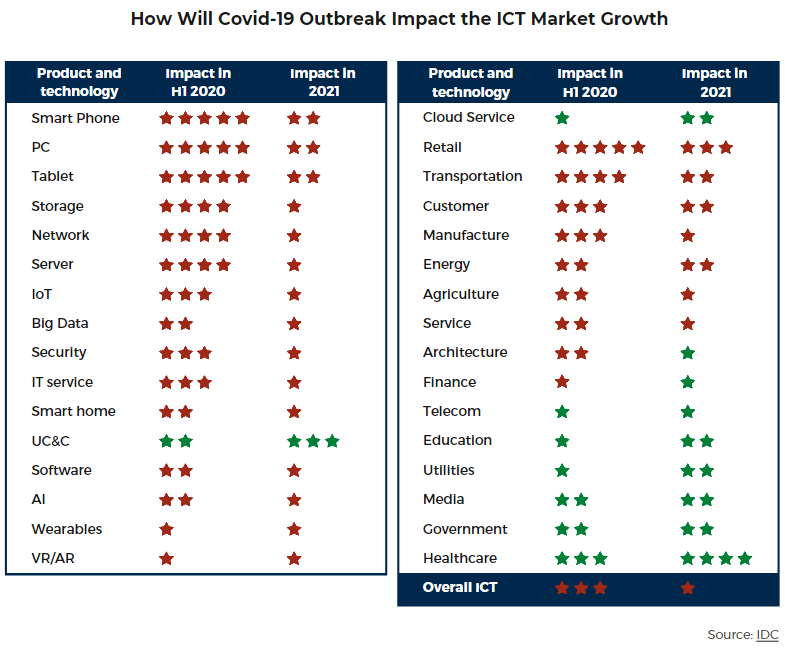 ---
This analysis is an extract from our recent white paper called "IT Business in Times of Global Crisis: How to Hold Positions and Grow Sales". In the full version, we've prepared a review of IT niches that will be the most demanded in the post-Covid era, as well as proven tips on how to sell effectively in economic turbulence. You can download it for free at this link. We hope you find it useful and inspiring.