The IT outsourcing industry is booming this year. According to a study conducted by Flexera, a quarter of companies of all kinds were planning either to start outsourcing in 2021 or to grow their existing offshore teams.
As a result, the question "where to outsource?" has become more important than ever before. Choosing the right software development outsourcing destination can drastically affect your project's success, which makes the matter even more challenging. So, our mission today is to show you the advantages of working with the Ukrainian market so that you can be more confident in your choice.
Ukraine is one of the leading IT outsourcing destinations due to its constantly growing tech ecosystem (which is forecasted to reach an export volume of US$8.4 billion in 2025), huge and vibrant talent pool, and strong tech education. Local developers are recognized as the 5th strongest IT professionals globally. But these are not all of the advantages…
In this article, we've prepared a list of the top 12 reasons why outsourcing to Ukraine is always a good choice.
1. Leading Research Agencies Name Ukraine the Best IT Outsourcing Destination
For many years now, Ukraine has shown outstanding results in the global arena and local developers have earned recognition for their strong hard and soft skills. They lead various rankings created by rating research agencies and often win large-scale programming or software development competitions.
The list of international rankings that mention Ukraine or local specialists is rather impressive, so take a long breath before reading:
Outsourcing Market №1 in Eastern Europe by Outsourcing Journal
1st place in CEE by the number of engineers and 4th globally by Colliers International
1st place by outsourcing volume according to CEEOA report
1st place in Science and Technology by The Good Country Index
2nd place Most Master Level Certified Nations by Bench Games 2013
3rd place International Most Certified Citizens by Bench Games 2013
One of the top 20 Offshore Locations in EMEA by Gartner
20th place in the Global Services Location Index by A.T. Kearney
One of the top 30 World Outsourcing Destinations in 2010-1014 by Gartner
One of the top 50 Most Innovative Countries by The Global Innovation Index
One of the top 50 In Outsourcing Activities by AT KEARNEY
And, finally, "Offshoring Destination of the Year" by UK's Global Sourcing Association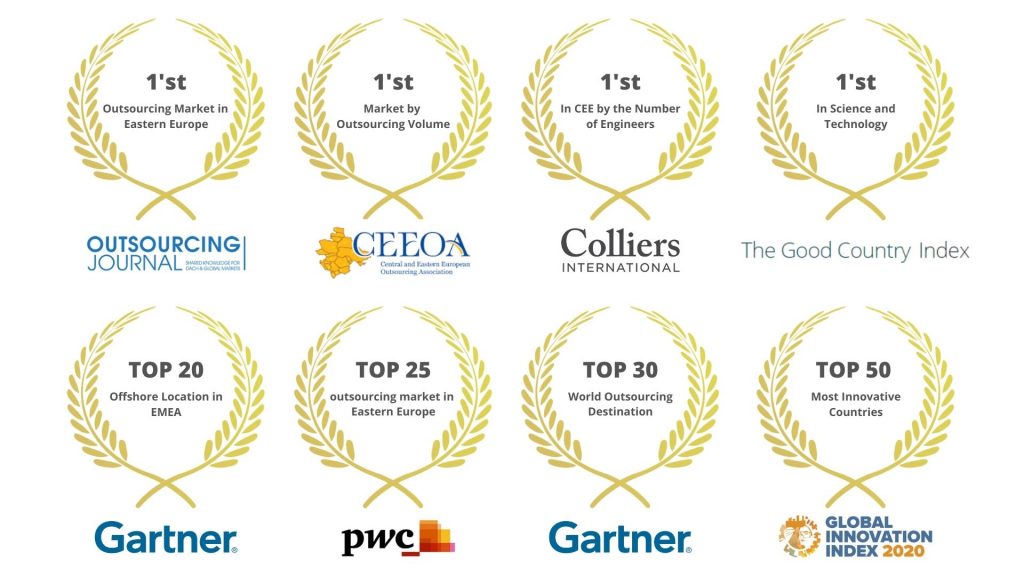 2. 36,000+ Tech Graduates Annually
The tech industry stands on the people who move it forward, and Ukraine hosts many thousands of skillful, smart, and inspired young specialists.
Ukraine's educational system is partially from the USSR, where math and engineering were at the head of the table. Even 30 years later, these disciplines remain very popular among students.
Based on the IT Ukraine Association data, over 36,000 tech students graduate here each year. Ukrainian state universities partner with local IT clusters to ensure that the curriculum is always up-to-date and targets the most in-demand skills. It's also very common for students to take courses or internship programs with local tech companies to refine their knowledge and experience of the development process.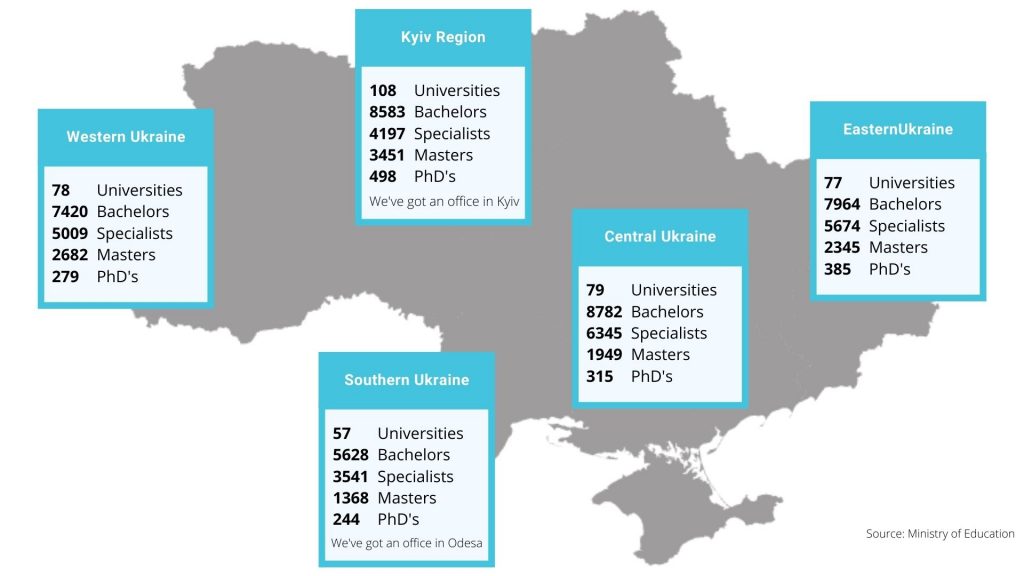 3. Powerful Community
The Ukrainian tech community is lively and cohesive. Many cities, even small ones, have an IT cluster that connect engineers, companies, schools, and local authorities to move the industry forward. The number of smaller communities is countless, and specialized meetups often are held on a weekly basis, so there's always an opportunity for an inquisitive specialist to spend a weekend productively.
At Intersog, we also host such events. A few times a year, our office welcomes the local iOS community, and we regularly run courses for teenagers.
As for the larger events, Ukraine holds many European tech conferences and forums:
The Games Gathering — A B2B conference dedicated to gaming industry.
The Agile Eastern Europe Conference — This event aims to popularize Agile and Scrum methodologies in Eastern Europe.
Lviv IT Arena — This event highlights the achievements of the Ukrainian tech industry. It shows how many talented specialists, promising startups, and top-notch products Ukraine has to offer the world.
DEV_Challenge — A software development competition in three categories: Web, Mobile, and Game.
IForum — Ukraine's largest offline conference dedicated to Web development.
4. Ukrainian Tech Industry is a Magnet for Employees
Higher salaries, the opportunity to work with tech businesses worldwide, and comfortable working terms make Ukrainian's IT industry a sweet piece of a pie.
Tech specialists in Ukraine are highly motivated: 92% tech/team leads say that they find their job inspiring and challenging enough to be interesting. The same trend can be witnessed among PMs, product managers, HR managers, and data science engineers.
As a client, you can find the other side of this situation very lucrative. Since more and more people strive to join the industry, the market is very competitive. As a result, the average level of specialists is continuously growing.
5. #1 Outsourcing Destination of Global Corporations
Microsoft, Huawei, Samsung, Siemens, Boeing, and Oracle – all of these companies have R&D centers in Ukraine, and many more powerhouses hire dedicated teams in our territory (like Mitsubishi, who was our client for many years).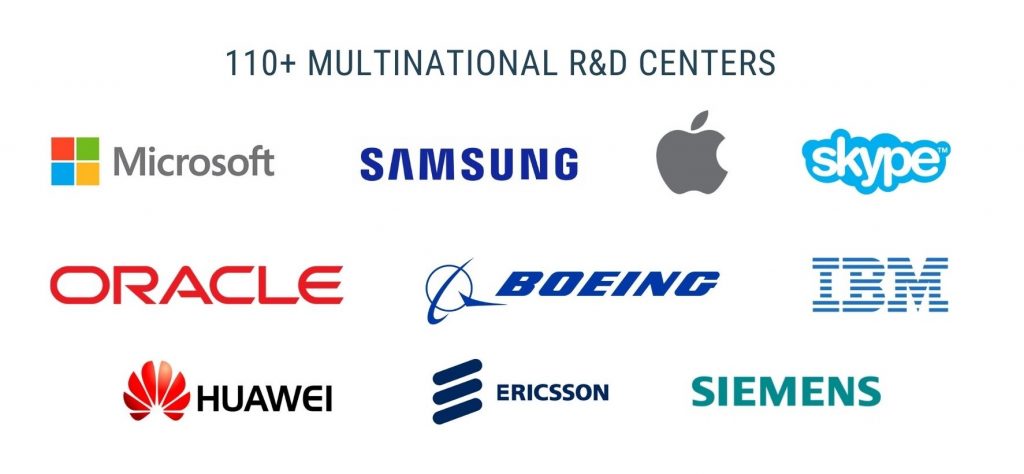 The local tech industry responds to global trends by incorporating high-end technologies into their outsourcing services package. You can easily find top experts on AI, Big Data, blockchain, and cybersecurity here in Ukraine. Newly emerging technologies also appear quite swiftly on the local market.
Outsourcing to Ukraine is not only about saving money. It's also an opportunity to find really unique talent, which many businesses have already appreciated.
6. The Best Price/Quality Ratio
However, if saving money is still a crucial issue for you, outsourcing to Ukraine is something you want to consider.
Just compare: The hourly rate for a Ukrainian engineer is $25 - $49, while in the US these numbers are $60 - $100.
Taking into the account the proficiency of local developers discussed in the paragraphs above, Gartner ranked Ukraine #1 in Eastern Europe for the price/quality ratio.
7. Home of Renowned Startups
Large businesses don't only come to Ukraine. They also come from Ukraine. PetCube, Gitlab, YouTeam, AXDRAFT, People.ai, and Earth.ai are the Ukrainian startups that have managed to get into Y Combinator.
And that's not all, folks! Here's a list of some Ukrainian startups that have earned global recognition: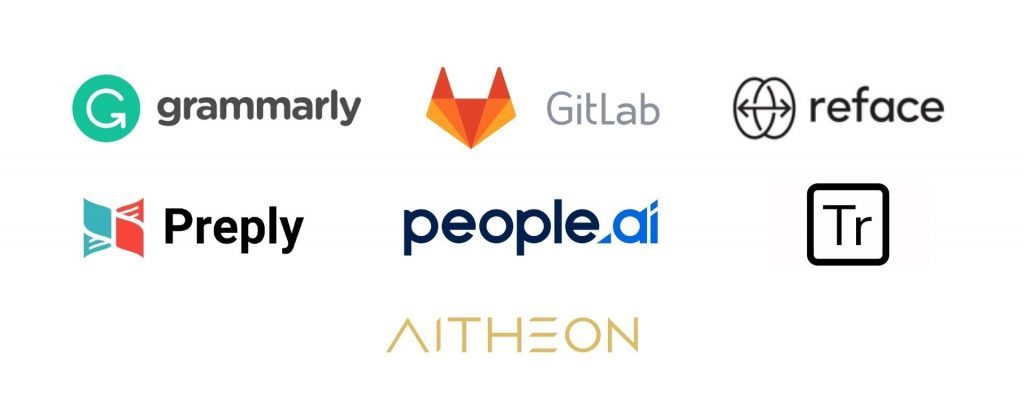 Just to add, Grammarly became the first Ukrainian unicorn startup.
And another world-popular AdTech company, Adtelligent, is our client and partner.
8. Private Data & Intellectual Property Protection
Putting your project in the hands of Ukrainian specialists allows you to sleep well at night. Most Ukrainian companies follow international security requirements, such as ISO, PCI, and HIPAA and invest time and money into teaching all aspects of these standards to their engineers.
To make sure the contractor does its work well, you can ask managers to provide information about the company's security, the integrity of processing, confidentiality, and privacy protection measures.
9. Comfortable Time Zone and no Visa Proplems
This advantage is not that obvious, but you will appreciate it when you actually start working with a dedicated remote team. Ukraine has a very suitable location.
It's in the same time zone as Israel and only a few hours ahead of the EU. The time gap between Ukraine and US East Coast on the West and Korea and Singapore in the East is between 5-7 hours. This gives you at least a few intersecting working hours to communicate with your team. Another plus is that when you get to the office in the morning, your team will already have a good amount of work done.
If you want to get closer to your team, that's also not a problem – Ukraine is a welcoming country! There is a steady air traffic between Kyiv and cities all around the world. People from Europe, the USA and Israel can travel to Ukraine without a visa.
According to the Henley Passport Index, a Ukrainian passport is also very nice to have. Ukrainian citizens have visa-free or visa-on-arrival access to 137 countries, so if you need a member of your team to visit your office, there's a good chance that he or she can do it without any problem.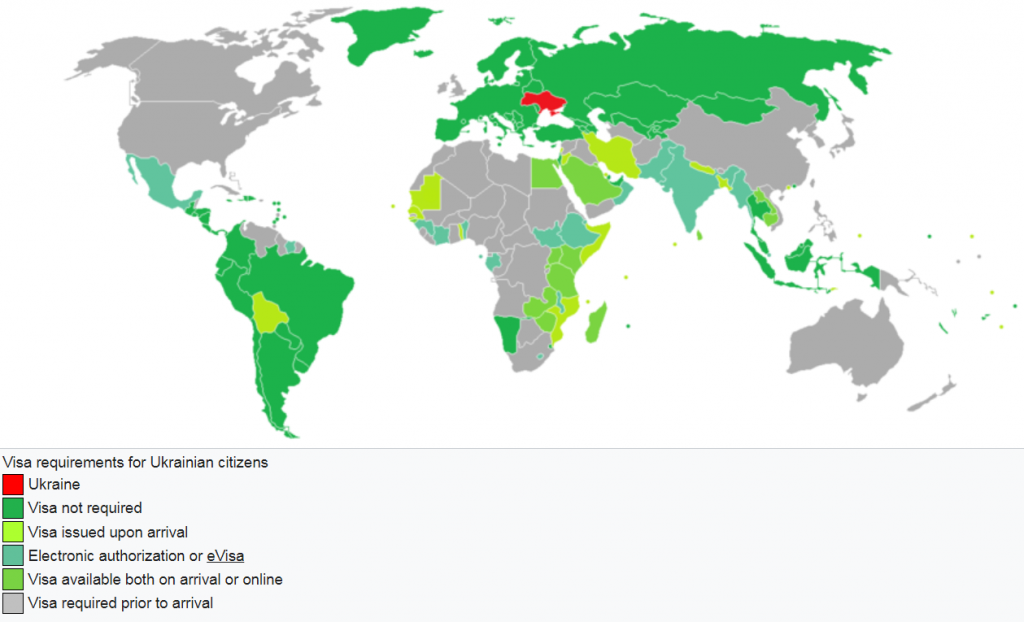 10. Comfy and Well-equipped Offices
Ukrainian IT companies pay special attention to creating comfortable working conditions for their employees.
Developers work from modern offices with comfy furniture and sound-proofed meeting rooms. They have all the devices they need and enough coffee to fuel them for the lifetime. Now, as remote working has become mainstream, companies have also taken care to equip people's home offices.
Our offices are a good example: We offer separate rooms for dedicated teams, cozy common areas, a playroom, and a special space for lectures and large gatherings. The company also provides remote workers with protected workstations and partially compensates electricity bills.
11. Developers' Hard Skills
When gathering your dream team, you want to bring in the people with the right technical expertise and skill sets. The Ukrainian market can offer you specialists who meet even the boldest requirements.
Here are just a few facts about the hard skills of local engineers:
They are proficient in a wide range of programming languages and technologies, the most popular being JavaScript, Java, C#, PHP, Python, C++, and Typescript. At the same time, you can find quite a lot of experts who work in more exotic technologies such as Scala, Kotlin, C, and Golang.
The top is as follows: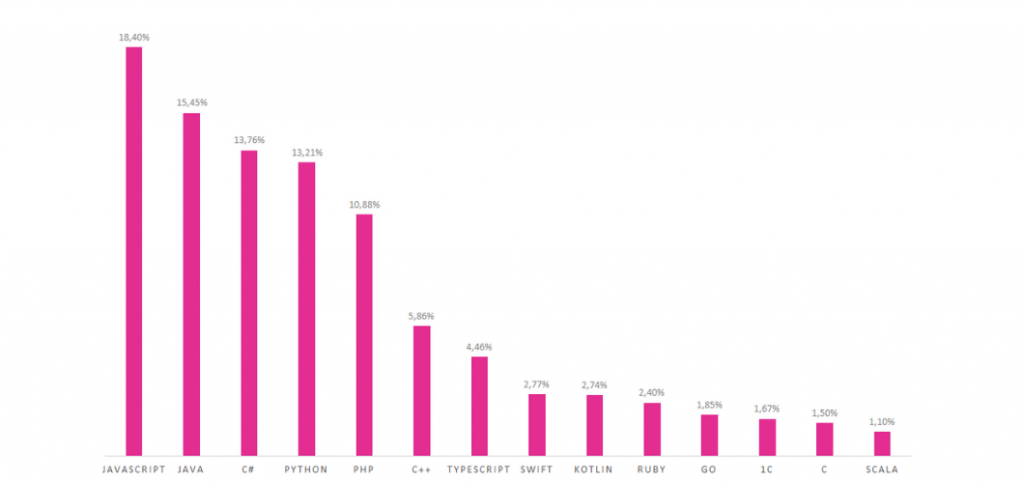 Ukrainian engineers are skilled. On average, more than 50% of Ukrainian candidates have 2-5 years of working experience, and 12% have been in the profession for over 10 years. Ukrainian developers often have expertise in various fields and verticals, since many of them have worked for an outsourcing company on several different projects. Thus, they make great contributors.
Most engineers are seasoned specialists, with about 35% of them ranking mid-level; 20% senior level; and 10% being team leads.
12. Developers' Soft Skills
Managers who have worked with Ukrainian specialists share the opinion that they are very comfortable to work with.
Maybe one of the most important soft skills Ukrainian developers possess is that they are communicative and speak English quite well. Eighty percent of local IT specialists speak English at an intermediate or advanced level.
Located in Eastern Europe, Ukraine shares many cultural similarities with both Western and Eastern countries. This means that you'll encounter similar values and a common work ethic: people here are hard-working, not afraid to take responsibility, and will value your trust. And, at the same time, they are very welcoming and attentive to clients and colleagues.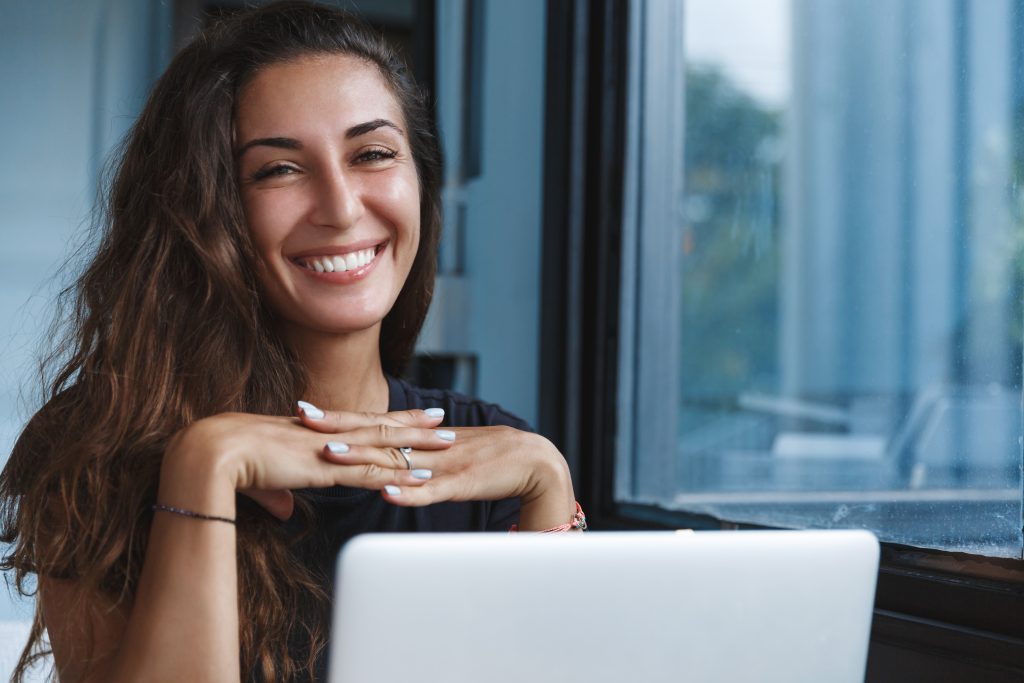 As a result, Ukrainian developers are honest when analyzing your tasks and offering assistance. They will deeply study your project and fairly state their ability to be of service and estimate how much time and money it will take. They value your time and won't get into the project if they don't have sufficient skills or an opportunity to master them shortly. This may look like a negative trait, but it saves you a lot of resources in a long run.
Last but not least, Ukrainian developers are curious. They can spend long hours digging deep into a new technology and proceed to new projects with genuine enthusiasm. Thus, they can offer creative solutions to issues and move your project forward when obstacles arise.
Check out a related article:
Junior or Senior: Hire a Software Developer Who Fits
***
Companies often hesitate to rely on Ukrainian teams, mostly due to their lack of knowledge of the local market and talent pool. (We hope our article has helped to shed some light on this matter.) But, once they come to a decision, they recognize that Ukraine is a popular outsourcing destination that will not let them down.
Would you like to start working with a dedicated Ukrainian team? Share your needs with us, and we will provide you with an optimal solution!