2020 was a life-changing year for many businesses. It showed us that we are living in a volatile, ever-changing environment, so we need to stay flexible and adaptive to succeed when the next "black swan" arrives (or a black, fire-breathing pterodactyl, if we're comparing to 2020).
The year was a milestone for the software development outsourcing industry, as well. While major changes used to be implemented gradually, the outbreak followed by the economic crisis proved that we might have to change overnight.
Not all companies succeeded to survive this transformation, but those who did can now benefit from new opportunities, as the upcoming year promises to be very fruitful for IT outsourcing companies and the high-tech industry in general.
IT OUTSOURCING IN 2021: FACTS AND FIGURES
According to Technavio, the IT outsourcing market is forecasted to reach $486.16B by 2024 with 5% CAGR during 2020-2024.
Fintech, healthcare, and telecom sectors will fuel the ride. Businesses in these fields are looking for IT outsourcing services more often than others.
The crisis caused by the COVID-19 outbreak has affected decision-making and spending. More companies of different sizes and industries plan to start outsourcing or scale up existing teams in 2021.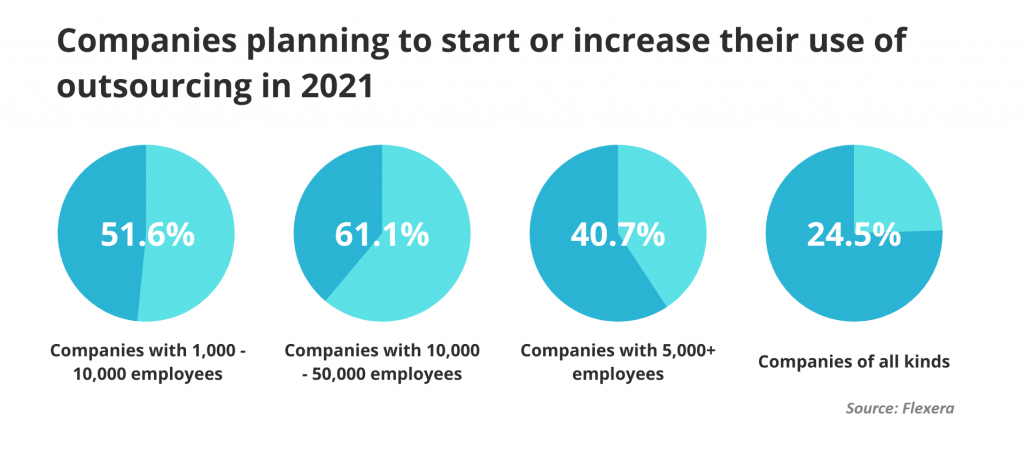 TOP 10 OUTSOURCING TRENDS THAT WILL RULE IN 2021
1. Remote? OK!
One of the most significant impacts that the COVID-19 pandemic had on IT business operations is the massive shift to working from home.
Since many companies have dealt with the most popular inconveniences, such as remote management, security issues, and motivation, they've also had a chance to appreciate all of the benefits that come from remote work. Even before the outbreak, remote work wasn't exotic for the sphere. In 2020-21, it has become a trend so powerful that many companies have decided to follow this approach even when the quarantine is over. According to the World Economic Forum, the number of permanent remote workers will double in 2021.
What does that mean for IT outsourcing companies? First of all, the most common client concern — the inability to run a virtual team — is no longer a concern at all (for the most part). They have learned to manage distributed teams effectively and can now focus on a candidate's skills rather than location.
2. No more servants; more partners
The importance of offshore partners in the software development process will rise significantly. More and more organizations will switch from outsourcing minor tasks to outsourcing essential functionalities.
Due to experience in multiple technological fields, outsourcers will more often be recognized as decision-makers along with client's managerial personnel. Vendors will take part in strategic planning, risk management, and system architecture development. IT consulting services will become a major responsibility of service companies.
3. A focus on long-term cooperation
As a result of previous trends, outsourcing is no longer a one-and-done affair. When selecting an outsourcing provider, clients will opt for a stable business relationship.
It's a win-win strategy for both parties. Clients will get professionals who are truly dedicated to their project's success, while outsourcers will notice an increase in their sales and marketing budget ROIs.
Reputation will become a valuable asset. Thus, companies can expect higher service quality from their vendors.
4. Europe on the rise
Since the quality of code becomes more important than the cost of development, the geography of outsourcing may change significantly.
Traditional destinations, such as India, the Philippines, and Latin America, will slowly lose their positions to European countries. The region presents a more robust talent pool than ever. Eastern Europe will lead the ride, since Russia, Ukraine, Bulgaria, and Poland are the countries that can provide paramount quality-to-price rates. Specialists there have a strong work ethic and excellent communication skills.
5. Teams for startups
Not long ago, outsourcing was a privilege that belonged to large companies and enterprises. That era is over. Today's startups actively explore the advantages outsourcing can give them.
Engaging an outsourced team helps to minimize costs — which, in the case of startups, are usually very limited — shorten time to market, and obtain access to the expertise of a large, multidisciplinary company.
As of 2019, over 50% of small businesses were planning to outsource. 2020-21 continues the trend.
Check out a related article:
7 Fintech App Development Fields to Launch Your Business in 2021
6. Involvement of multiple vendors
The recent crisis has shown that smart diversification can become your life jacket. Businesses that want to cover multiple niches will start looking for contractors with narrow specializations in desired areas. Often, this will include several contractors or different subdivisions within one large IT outsourcing company.
In 2021, IT outsourcing vendors will have to learn to cooperate with each other and coordinate their activities not only with the client but also with colleagues from other firms.
7. Custom outsourcing agreements
The number of predetermined fixed agreements keeps falling, leaving room for individual contracts.
Even though this approach often requires more paperwork, it allows parties to work out a win-win cooperation strategy. It helps to negotiate the pricing, scope of work, copyrights, and other terms and conditions. Such contracts promote transparency and mutual trust and remove misunderstandings. They minimize the chance of overpaying or receiving unexpected or unpleasant results.
So, yes, flexibility is your must-have if you want to succeed as a top outsourcing company in 2021.
8. Cybersecurity expertise is a must
Since most IT companies have shifted to work-from-home mode, they've become rather sweet targets for cyber attacks.
According to the 2020 HLB Cyber Security Report, almost a half of surveyed companies either were breached or noticed suspicious activities.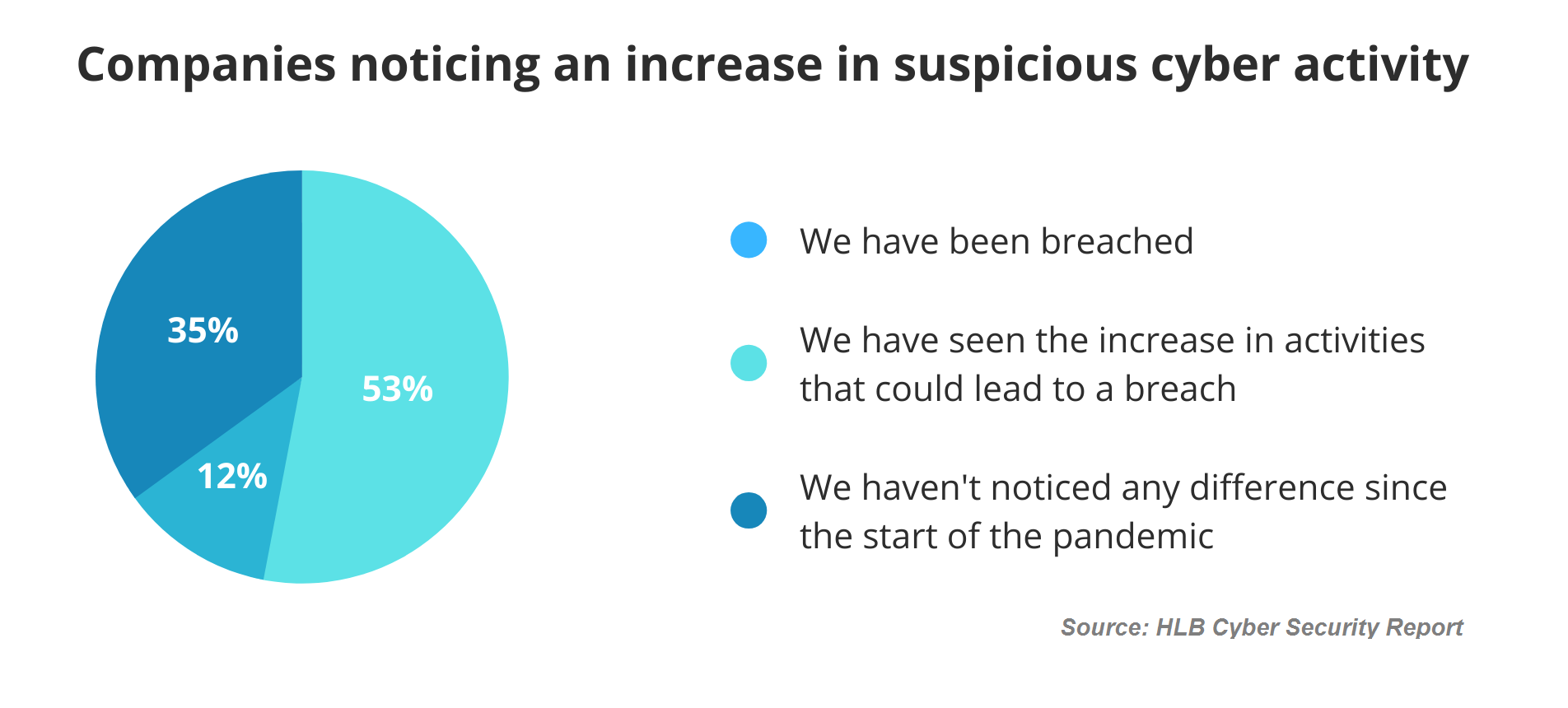 The good news is that the same report shows that 55% of polled companies are planning to increase their cybersecurity budgets in 2021 by incorporating new solutions and hiring in-house teams or a cybersecurity service company.
9. Head in the clouds
Moving data to the cloud is an accelerating trend. In 2020, the number of companies that adopted this approach beat all the records, and 2021 promises even higher growth.
According to Gartner, the proportion of IT spending that is shifting to the cloud will increase as a result of the COVID-19 crisis, with cloud services forecaster to make up 14.2% of global IT sector spending in 2024, up from 9.1% in 2020. Software as a service (SaaS) will remain the largest market with cloud system infrastructure services, or infrastructure as a service (IaaS), following in its steps.
Table 1. Worldwide Public Cloud Service Revenue Forecast (Millions of U.S. Dollars)
| | | | | |
| --- | --- | --- | --- | --- |
| | 2019 | 2020 | 2021 | 2022 |
| Cloud Business Process Services (BPaaS) | 45,212 | 43,438 | 46,287 | 49,509 |
| Cloud Application Infrastructure Services (PaaS) | 37,512 | 43,498 | 57,337 | 72,022 |
| Cloud Application Services (SaaS) | 102,064 | 104,672 | 120,990 | 140,629 |
| Cloud Management and Security Services | 12,836 | 14,663 | 16,089 | 18,387 |
| Cloud System Infrastructure Services (IaaS) | 44,457 | 50,393 | 64,294 | 80,980 |
| Desktop as a Service (DaaS) | 616 | 1,203 | 1,951 | 2,535 |
| Total Market | 242,697 | 257,867 | 306,948 | 364,062 |
Data in the cloud provides both higher security and cost optimization; since there's no need to create your own data center, development becomes much cheaper.
In 2021, the demand for suppliers of cloud solutions will be higher than ever, but to win the competition, vendors should be ready to offer advanced levels of security and pay special attention to privacy.
10. AI, ML, IoT, and robotisation are no longer exotic
A decade ago, outsourced teams were mostly hired to handle trivial or non-core tasks, while the application of cutting-edge technologies was the domain of in-house teams.
Today, it's a common practice for outsourcing companies to offer machine learning and data science solutions or AI software development services.
According to Statista, in 2021, the US AI market alone will generate $22.59 billion in revenue. AI startups are seeing record investment. Tech giants are switching to AI-chatbots and robotic automation.
All of this creates an enormous demand for a qualified workforce that local markets are not always able to fully satisfy. In such circumstances, remote teams can become the best solution. Outsourcing providers offer access to another country's talent pool and can provide a higher level of expertise due to having several related projects in their portfolio.
HOW WE CAN HELP YOU RIDE THIS DIGITAL WAVE
Here at Intersog, we are always happy to provide our hands and skills to help you reach your digital goals.
We've been in the business for over 15 years. During this time, we have helped over 150 companies, from startups to Fortune 500 giants, build and extend their software development teams and release top-notch products.
You can benefit from our expertise in such domains as AI+ML, Big Data, Blockchain, Data Science, IoT, and more. We have a large portfolio of solutions for clients in healthcare, fintech, eCommerce, and cybersecurity.
We offer flexible terms and easily integrate into our clients' processes and culture. You can build your dedicated team at any of our locations in Ukraine, Mexico, USA, and Canada. Feel free to contact us for details.