2018 was a glorious year for augmented reality technology. Most prominent market players like Microsoft, Amazon, Apple, Facebook, and Google were showing their growing commitments to it, presenting new features and products from time to time.
After WWDC 2018 where ARKit 2.0 was presented, the number of mobile AR users has grown globally. While Android smartphones got 150 million new users with the adoption of ARCore-based software, the number of augmented reality users via Apple devices increased to 380 million by the end of 2018. And more is about to come. The prognoses are so that by 2023, the number of owners of AR-supporting products like smartphones, tablets, and smart glasses will be more than 2.5 billion people.
And there are several reasons for it. Below you can find different sectors of your business, where augmented reality can bring numerous benefits and solutions, worth implementing.
1. Sales
As we have just accommodated ourselves for the rise of e-commerce, a new wave is about to come: AR-commerce. Facebook is one of its early-adopters. They have introduced AR-ads, which allow users to "try on" the advertised products.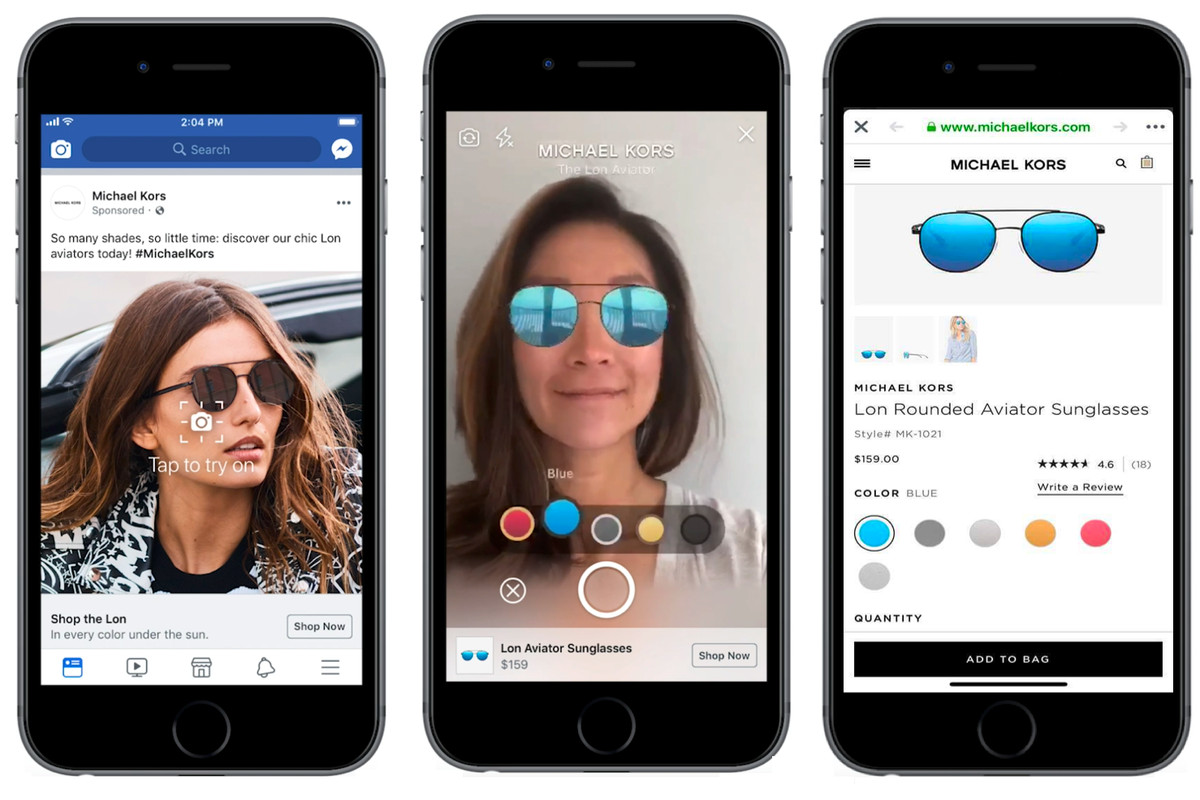 One of the reasons for it is that augmented reality helps to increase the customers' engagement, especially when they shop online and want to try on the products, thus leaving plenty of doubts aside. Talking in sales terms, AR is a great way to improve the customer's move through the sales funnel.
While Facebook's AR is still in beta stage, IKEA has been profiting from its AR application IKEA Place since September 2017. This app helps users see how the chosen furniture will look in their homes.
2. Marketing
The graduate development of augmented reality has the perfect pace to support a trend of experiential marketing. Although the idea is not brand new, we know many examples of brands trying to create a new extraordinary experience in their "points of sale." It could be while opening the packaging or while using the product. But now it is taking place in another reality.
One example is the AR campaign for Uber. There are many cases of how the brand was working on the physical experience of its customers, but now it is diversifying its approach.

Moreover, using AR in your app gives you a competitive marketing edge as well. First, it is still fresh and noticeable and gives you a chance to surprise your future customers the way your competitors can't. And for this reason, AR campaigns are still getting more virality, which together with interactivity that AR undermines brings customer retention.
3. User Experience
Augmented reality can also successfully serve not only as a side tool for bringing you extra customers but also be one of the core features of your product. There are many cases where using it will help solve the customers' problems more efficiently. For example, it is a helpful feature when it comes to visualization of information about real objects.
In May 2018, during its annual I/O developer conference, Google announced a new feature for its Maps mobile app. It is called the AR Visual Positioning System. The app layers interesting data such as tips about your route, directions, and places nearby over the "reality" seen through the camera lens. The app is not publicly available yet.
Yelp, a service for local search, business ratings, reviews, and food delivery, had launched something similar back in 2010.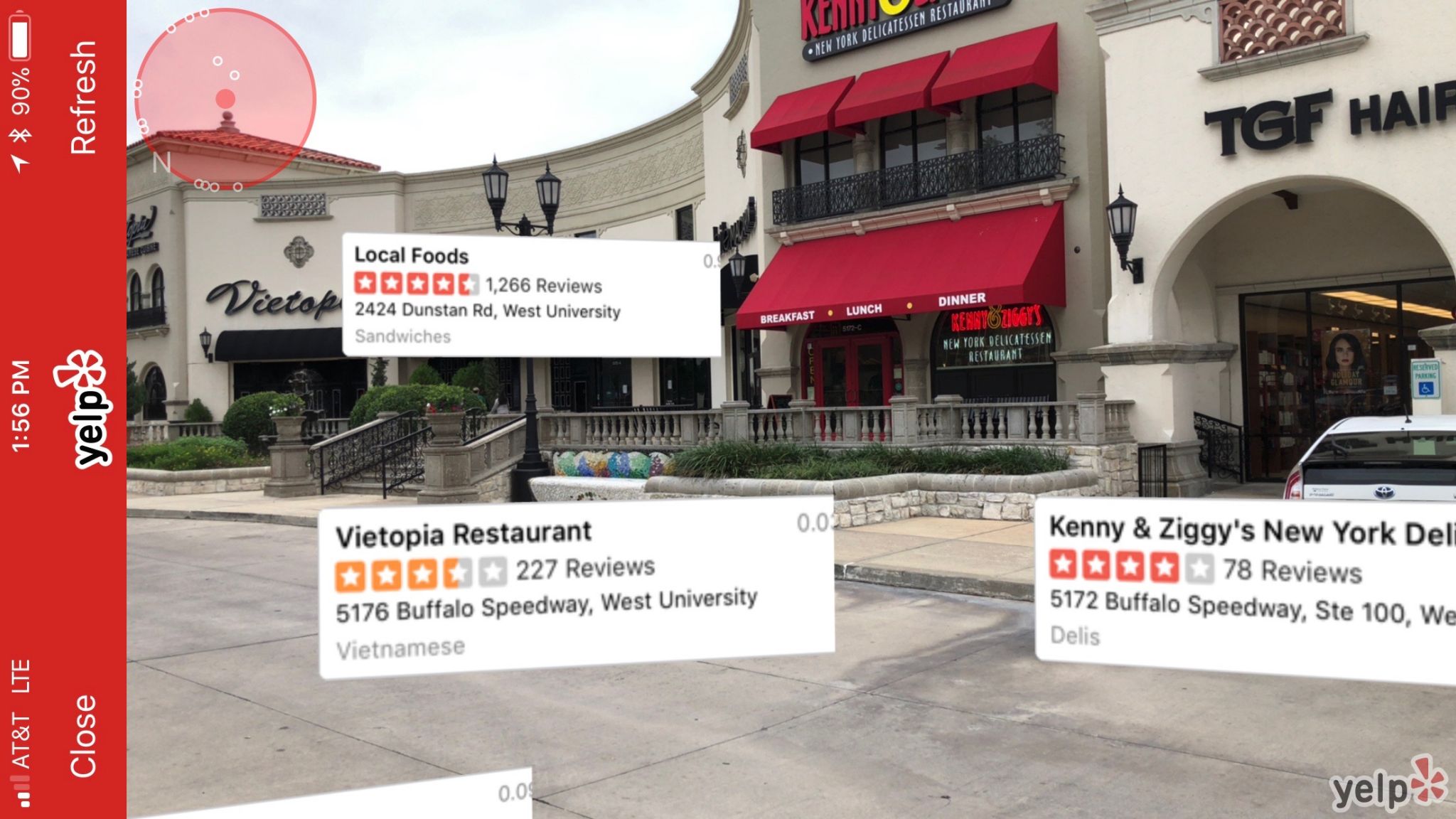 Monocle by Yelp shows a view through your smartphone camera. The labels pop up showing information from Yelp's database about restaurants, hotels, tourist attractions, and other points of interest around you. Tapping on one of them launches the Yelp app and shows the page about this place. It's especially helpful if you are in a city you don't know well and the number of opportunities for things to do is large.
Check out a related article:
16 Technology Trends of 2020 (or, the Nerdiest Game Ever)
4. Customer Support
There are many ways to keep your customers satisfied with the support you provide using conventional tools. But when it comes to remote assistance in more complicated sectors, like an industrial one, this is where some other forces are required.
Enterprises like Boeing and General Electric have already implemented it and have so far reported reduced error rates and enhanced worker performance.
Usage of augmented reality for maintenance and repair is based on the principle "see-what-I-see" which allows you to get the necessary help from specialists anytime, anywhere. Whenever a new or more complicated issue appears, technicians, working "on the spot" can connect with experts and get faster assistance. In this way, AR decreases repair downtime, as well as saves time and money.
5... and just for fun
The most significant application field of AR is entertainment. Pokémon Go has not lost its popularity since 2016 and has made an estimated 795 million dollars worldwide in 2018. December 2018 alone saw a 35 percent increase on the previous years' earnings.
Still, its creators, Niantic and WB Games San Francisco, are preparing a new game: Harry Potter Wizards Unite.
"Harry Potter: Wizards Unite will reveal that magic is all around us. It will allow players to be a part of Harry Potter's rich world, through Niantic's AR + real-world mobile game platform and the franchise expertise of WB Games San Francisco's development and publishing team. By exploring real-world neighborhoods and cities across the globe, players will go on adventures, learn and cast spells, discover mysterious artifacts, and encounter legendary beasts and iconic characters."

Niantic press release announcing the partnership for Harry Potter game.
On April 17, 2019, the game launched beta testing in New Zealand, and, hopefully, the rest of the world won't have to wait long.
***
The cases we mentioned in this article are just a few examples of using AR, but they can inspire you to create something for your business that has never existed before. And if you need help with developing and implementing it, our team is happy to assist. Contact us to learn more about our expertise in AR/VR applications development.
---