Client
Ski Nation is the first mobile app that catalogs every ski area from major resorts to local and non-profit ones. As of today, it includes over 900 ski areas in operation across the USA and Canada.
Location
USA
Industry
Sports and Wellness
Services
Challenge
The creator of the project, Jack Turner, had a general vision of the app, but he needed someone who could get engaged and develop it.
"I'm not a technical person who understands mobile tech well, but I always knew what I wanted Ski Nation to be like in terms of design and functionality. So, I needed a software developer to help me bring my idea to life. However, I needed to find a developer that would be more a partner than just a contractor."
He researched local software development companies, who evaluated his project at opposite ends of the spectrum: from a few dollars to a million.
After personal meetings and becoming acquainted with potential teams, Jack relied on Intersog for the development.
"Intersog was chosen for a number of reasons. Firstly, their previous work was really good; secondly, and more importantly, they seemed to be genuinely interested in my app idea and concept. Also, Intersog didn't look like a company that would just do work and say good-bye. I'm happy with my choice and have never regretted making it."
Solution
Our team gave Jack a lot of useful recommendations and helped him select the most suitable tools and functionalities for the app. We also walked him through the whole engineering process, which helped him make more informed decisions and better understand how the app works "under the bonnet".
Our team communicated directly with the client, thus streamlining the process by having constant feedback on their work.
UI/UX Design
The task was to make the app attractive to the ski community.
While improving the UX, our design team always kept in mind that the app was for use both indoors and outdoors—in the middle of a mountain ski experience—so the UI had to be intuitive in every environment.
The color palette was inspired by existing ski equipment. It emphasizes the feel of active sports and looks great in the land of sun and snow.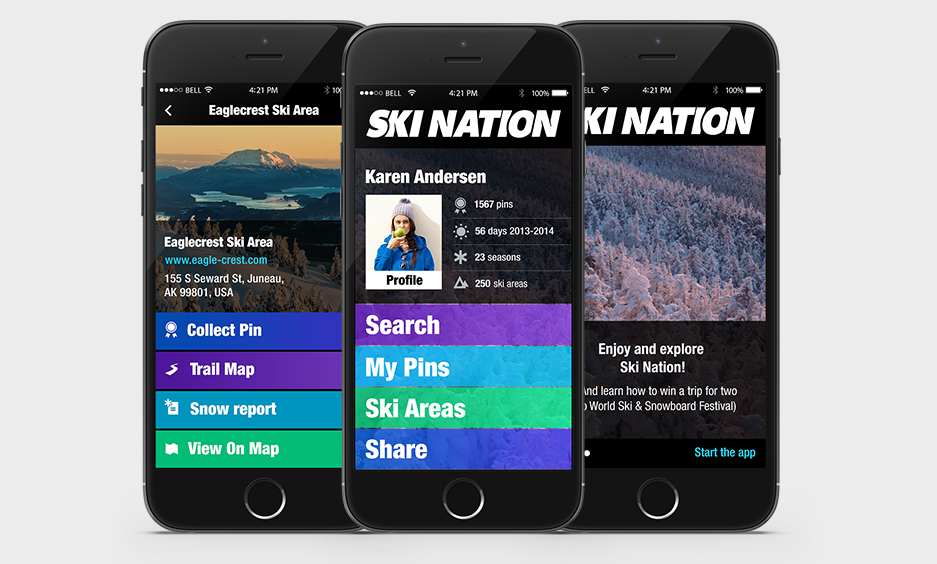 You can explore the whole design review on Behance.
Software development
The client had some fundraising issues, so he chose to build a lighter version of the app. The team did its best to attain most of the functionality regardless of reduced time and cost.
Key features:
A list of all major ski areas with address, contacts, and GPS coordinates.

The ability to "Check in" at various ski spots all over the world and share the location with your friends.

The tracking of personal ski activity.

Access to review insider offers and information from ski areas, gear makers, and shops without compromising personal information.

Snow and trail reports from SnoCountry
Watch the video review to learn more about the app's opportunities:
Results
"Although I never met my team in person, I feel like they are old friends. I'd definitely recommend Intersog to all those looking for a reliable long-term partner rather than just a contractor."
As of today, the ap

p is available in iTunes and Google Play.

The app has become Powder Alliance's choice for their coalition of 13 Western resorts.

It has also received coverage in TUAW, POWDER Magazine, and SkiTheWorld.com.